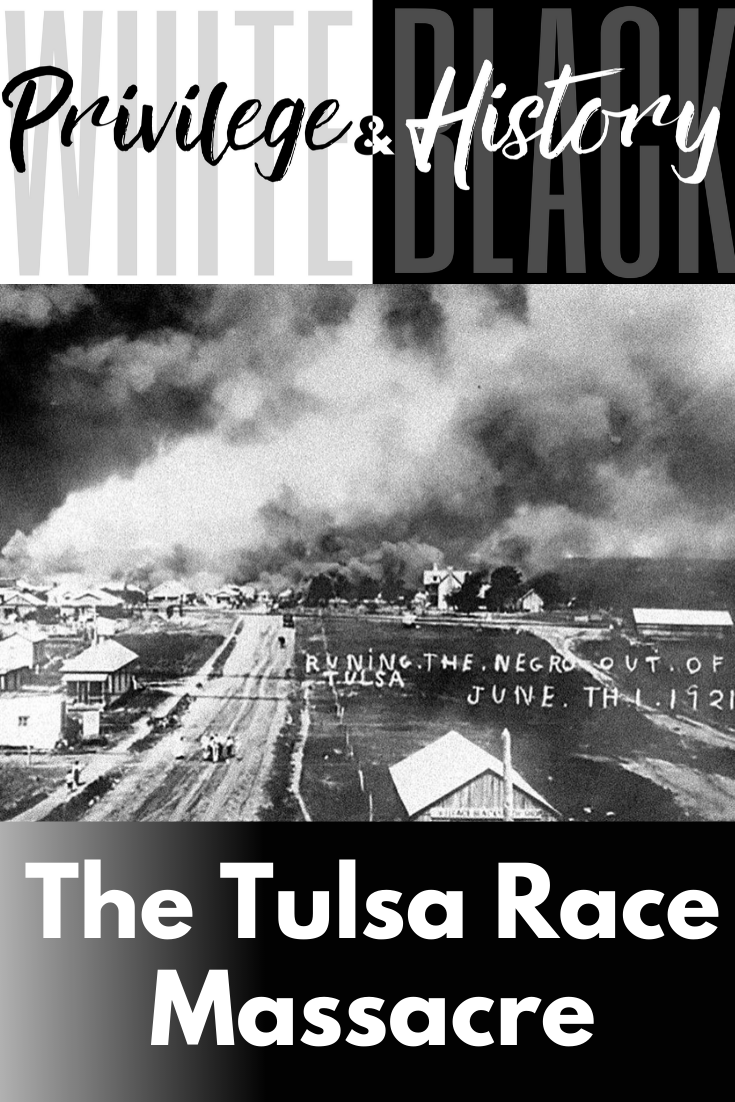 As I mentioned in Episode 1 – Learning about the Tulsa Massacre for the first time this year – 99 years after it happened – was instrumental in my decision to develop this podcast. 
We're never going to be able to understand the Black experience if we don't understand the historical moments that have shaped the relationships between Whites and Blacks in America – and relationships between Black people and Law Enforcement. 
65 years after slavery ended, Tulsa was home to what was known as "Black Wall Street." It was a segregated Black community that was thriving. The business district was built along Greenwood Ave between Archer Street (to the south) and Pine Street (to the north) and there were homes and residential neighborhoods nearby.  There was access to everything from doctor offices and schools to movie theaters and hotels.
Before diving into what happened – it's important to understand how we know what we know. You see, the fact that we were not taught about this event in school is actually the least shocking thing about the whole story – because the cover-up began immediately and the Tulsa Race Massacre (originally called a Riot, but we're not going to do that – we're going to call it what it was) – the Massacre was not talked about by anyone. White people simply wanted to pretend like nothing had happened and go on with their lives after they destroyed the lives of the Black community. For this reason, much of what we know is what was passed on through stories (some stories you can find on YouTube and I have an interview from a survivor linked in the show notes). So as we learn about this event, remember that there are a lot of gaps that are there because white people did not want the facts to be known – which is concerning it itself.
Here is a summary of what happened. On May 30th 1921, a Black man named Dick Rowland, a shoe shiner, entered an elevator where a white woman, Sarah Page, was the elevator operator. The elevator doors closed and something happened. There were only 2 people in that elevator – a white woman and a black man – and it became a he said, she said situation. It's believed Rowland may have tripped and/or stepped on Page's foot causing her to scream. Rumors began to grow like wildfire and the next day the newspaper accused Rowland of rape, and instantly the white community began to talk about a public lynching of Rowland. That night, a white mob gathered and demanded authorities allow them to lynch the man, but the sheriff refused. When the Black community heard about the white mob, a group of Black men grabbed their guns for protection and went to confront the mob and protect Rowland. When the 2 groups of people met, the white mob attempted to disarm a Black veteran and a shot was fired, officially starting the violence.
At this point the white mob turned their focus on targeting Black Wall Street. They looted homes and businesses before setting them on fire all along the commercial district and murdered innocent civilians in the area. Authorities did nothing to stop the violence… and as the hours passed, police began to instigate the situation further. When the national guard arrived, they were tasked with protecting the white communities from counter-attack (which never happened) and so the violence and destruction continued.
I've heard claims that the Greenwood district was also bombed from an airplane flying overhead – something that survivors confirm, but white scholars deny.
By June 1, 1921 most of the Black community in Tulsa was homeless and the once thriving Black Wall Street was a distant memory.
Rowland was exonerated – meaning he was found NOT guilty – yet a jury of white jurors decided the massacre was the fault of the Black community – and no white people were ever arrested or charged with any crimes – not the murders or the arsons.
It is estimated that over 300 Black people were murdered and now we believe the Tulsa Race Massacre to be one of the worst incidents of racial violence in American history. It was not until 1997 that a state commission decided to investigate, locate survivors, and provide reparations. 76 years later. For 76 years, White Tulsa swept this under the rug – having restored the white community to the position of superiority they desired.
While the story is easy to be remembered as violence & destruction – there is also a strong element of courage and resilience, because while some did move away from Tulsa, many stayed in the area to rebuild… though it was certainly never the same again.
How this is relevant today: Think about the message that this sends through the generations of Black americans. The quickness that a Black man will be accused of a crime – and presumed guilty. The ability for white communities to destroy black livelihood without fear or consequences. The support the police automatically give to the white communities – and protecting white communities against a perceived threat – when there is an active threat against the black communities. 
Protecting white communities against a perceived threat – when there is an active threat against the black communities.
Remember, when the national guard arrived, they were sent to protect white homes from a counter-attack, while the terror was actively raining down on the Black community.
Protecting white communities against a perceived threat – when there is an active threat against the black communities.
The same way #AllLivesMatter and #BlueLivesMatter are protecting against a perceived threat – when #BlackLivesMatter is responding to an active threat. 
This is White supremacy.
White superiority.
White privilege. 
This is racism.
Listen and Subscribe Now
---
Links & Resources
---
Join The Community & Continue The Conversation: