The Facebook 20% text rule is a thing of the past. It's been gone for months now. However, I continue to receive a lot of questions regarding what that means for Facebook Ads.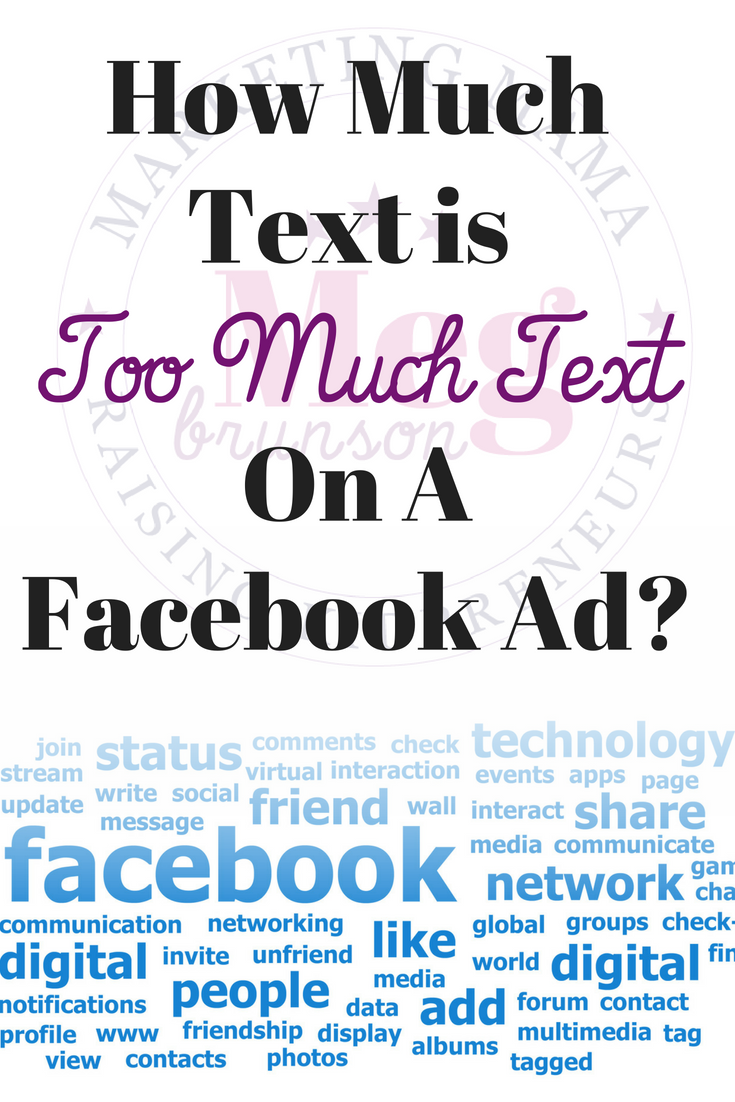 WHY DID THE RULE EXIST?
As with most things on Facebook, the rule existed to preserve the user experience – but it actually benefitted everyone!  When users sign into Facebook, they are often looking for things that interest them.  Such as, like photos of their friends, funny memes, etc.
For many businesses who came to digital from traditional advertising, their ads were often crafted for newspapers, magazines or billboards.  In those cases, putting words on the image was essential for getting their message across to the potential client.  But, testing has proven that Facebook users are more responsive to ads that blend in with the posts of their friends and family.
Which makes sense – you don't sign on to Facebook hoping to be sold to, right?
This is valuable information for advertisers.  Having to cater to a unique rule about text may be inconvenient at first, but it often resulted in a better return on investment in the long run.
With the 20% rule, if your image had over 20% text it simply would not run.  There were some exceptions (like if the text was on a product in the photo, a book cover, poster, etc) but as many seasoned advertisers know, there were many flaws in the system resulting in many inconsistent ad disapprovals.  This rule helped make the user experience positive because it encouraged images to look less sales-y.  This, in turn, helped businesses improve the return on their investment because users took more actions on images without text.
WHAT IS THE NEW RULE?
The new rule is much vaguer.  The hard stop at 20% text is gone and images with text on them will often be served. However, Facebook warns that the more text you have in your image, the more likely you will see a higher cost for running your ad.
There is a tool you can use to identify how much text Facebook perceives to be in your image – and it will tell you how likely you are to see higher costs associated with your ad.  The functionality is also built in the ad create tool, so you will also notice a warning if your ad has too much text during the creation process.
HOW IS COST DETERMINED?
Facebook Ads are served through an auction.  Every time a user signs into Facebook a micro-auction takes place to determine what ad should be shown to which user.
There are many things that impact the auction process (which ads go to auction for which users, and which ads win), but for the purposes of this topic, it's important to understand two:
The cost of that impression is determined by supply and demand. How many people are online, and how many paid advertisers are bidding for their attention.
Feedback from others who have been served the ad also plays a role.

If the ad has high positive feedback and a high relevance score (meaning people in the audience are clicking/commenting/etc. and it's performing well compared to other similar ads) then it will see lower costs because it will be served more often and win more auctions.
If the ad is on the opposite side of the spectrum – high negative feedback and low relevance score – it will not even reach auction as often as the other ads, so it may still win auctions but it will win fewer auctions at a higher cost than the other ads.
HOW TO DETERMINE HOW MUCH TEXT IS TOO MUCH TEXT:
Because, as a general rule, people do not respond as favorably to ads with high levels of text… and the feedback an Ad receives plays a role in determining cost… running an ad with higher levels of text runs a risk of negative feedback and therefore higher costs.   But, because of this process, there is not a hard cut off.  Some audiences may be more receptive to higher levels of text than others.
The best way to determine how much text is too much text for your audience is to test it out on a case-by-case basis.  Erring on the side of using small amounts of text.
When you run a Facebook Ad Campaign, you are able to add multiple images at the Ad-level.  Best practices dictate that we should always test out 3-5 images, so this is the best place to try a couple different images and/or experiment with the amount of text in your image.  If you really think that the wording on your image is essential then use it – but also try using an image without any text, or different font sizes and amounts of text.
When you upload multiple images at the Ad-level, Facebook will automatically serve them all out a little at a time in the beginning.  Then determine which ads are performing best and begin serving them out more often for you.  So this is a great way to determine if you "need" the words on the image, and if your target audience is responding well to them.
MY EXPERIENCE
One of my clients recently produced content that I knew would have the capacity to perform very well and believed that including text on the image would help the viral-ability of the content.  When I uploaded the design to Facebook through the Ad Create tool, I received the warning that the image may receive lower reach.  So I did test it out with a similar image without text.  Low and behold I was right, and the tool's warning was unnecessary.  The image with "medium" text out-performed the image without any text.  We used similar creative in different markets and each time the text warning appeared, but each time we received superb results.
MORAL OF THE STORY
Test.  Test.  Test.
The 20% text rule is out – and while some images with high-levels of text may still be downright denied – Facebook is allowing images with low-medium amounts of text to go to auction.
Best practice will always be little-no text, but there will always be exceptions to the rule.
So, err on the side of less than 20% text, even though the rule is obsolete. If you really think that more text will benefit your message, test it against an image that has less than 20% text and an image that has no text at all.
Remember: It's not about what creative YOU think is best. It's about which creative influences your audience to take the actions you desire.  And sometimes, they will surprise you!
What questions do you have about text on your images?  Join the conversation at SocialSuccessSociety.com
---
LET'S HAVE SOME FUN!
If you know you need to improve your marketing, but don't know exactly where to start… or you just love buzzfeed-like quizzes… then you need to check out THIS QUIZ! It'll reveal exactly what you need to take your marketing to the next level PLUS start an epic dance party!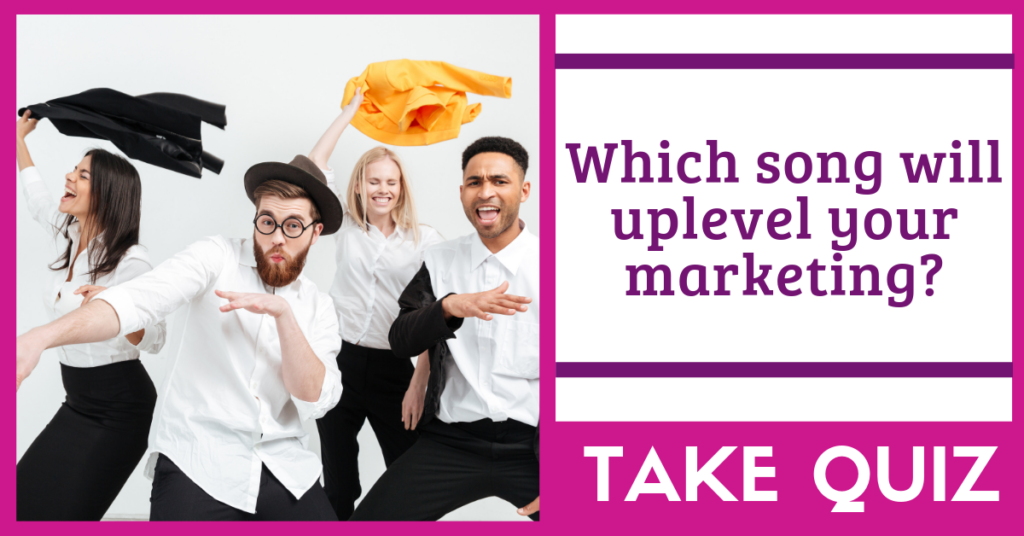 ---
About The Host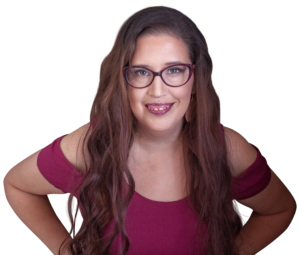 Meg Brunson has been marketing to moms for over 7 years. She is the founder and CEO of EIEIO Marketing, a digital marketing agency focused on Facebook Marketing for family-focused businesses.
Meg is also a former Facebook employee with a passion for helping bootstrapped businesses figure out Facebook so that they can promote like the pros! She left the 9-5 in 2017, so that she could be the mom she wanted to be to her 4 young daughters.
After helping her daughter launch her first business, Storytime With Kiki, at the age of 10, Meg began hosting the FamilyPreneur Podcast: an interview-style podcast for parent entrepreneurs, raising entrepreneurial children.