I believe that the best business idea for a mom is one that allows her to involve her children. By involving your children in your business, you will not only find a unique work-life balance, but you will be influencing your children to adopt an entrepreneurial mindset, which is truly invaluable. One way to build a business along slide your children is become a digital influencer (a.k.a. a mom blogger) – you can blog about local family-friendly businesses, write reviews for kid-friendly products and services, and more!  This is actually the exact path I took – the path that I really credit for jumpstarting my journey to being a full time entrepreneur. While you can totally start a blog independently, there are some companies that will guide you through an opportunity like this, including Macaroni Kid and HulaFrog. Joining one of those companies allows you to work alongside other franchised bloggers and make use of their existing websites, hosting, email providers, branding, and more. When you start a company like this, you make money by selling ad space on your site. Those companies often require a monthly fee, and/or pay out commissions for advertising sold. Alternatively you could start a blog independently. A lot of business do this by themselves and it doesn't even need to be expensive (you could check out something like this cheap web hosting company to show you how much you would actually need to pay). You will have to pay money though, you can't avoid that. These costs that are associated with that process are: web hosting, web building, email providers, etc. But don't worry there are easy solutions to this such as using WordPress Hosting – daily backups, but if you don't want to do that then that's fine. So when it comes down to it – how do you decide? Mom Blog vs. Macaroni Kid vs. HulaFrog…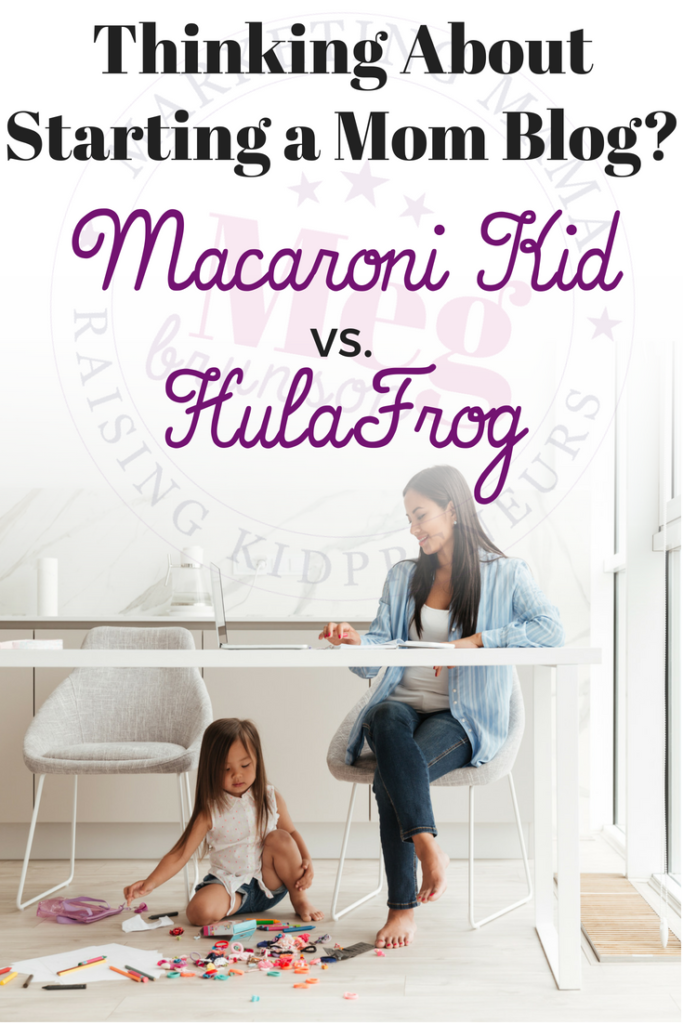 Mom Blog vs. Macaroni Kid vs. HulaFrog
When I first embarked on this path, I decided to join a franchised company because having some of the infrastructure built out for me was really appealing and made the process less intimidating. This kind of thing is common when it comes to things HVAC Franchise Opportunities, when workers decide to buy into bigger franchises instead of starting their own business. At the time, the reason that I chose Macaroni Kid was because I liked the low-monthly fee, and knowing that I could set my own prices and keep 100% of the ad revenue. When I did the math, there was a higher potential of profitability with Macaroni Kid than there was with HulaFrog.
At this point in my journey, money was not abundant. Even the "minimal" monthly fee of $59 seemed like a small fortune. I remember feeling nervous about pitching the idea to my husband. This was not my first business idea – and I had experienced a LOT of failures… but, I pitched it and hoped that he'd love the idea as much as I did. In true Lou-fashion, he was pretty much instantly supportive and we agreed on business goals that would guide the decision to leave the company if need be… basically, we needed to be generating income by month 3 and be profitable by month 6… and I gotta tell you… I was profitable my month 3 and this opportunity truly changed my life.
Managing a "mom blog" through Macaroni Kid provided me opportunities to review products, services, venues, and activities with my kids – things that we would not have been able to afford any other way. "Cash money" aside, this adventure really helped me provide my kids with the quality of life that I had always wanted to give them. And, it generated money in my wallet too!
The "sisterhood" within Macaroni Kid was amazing – women helping other women succeed. They shared ideas, tips & tricks, blog posts, and I developed long lasting friendships. Macaroni Kid provided opportunities to partner with big brands (like Gerber, Disney, and SpinMaster) and earn free products and financial compensation for reviews.
Why am I not with Macaroni Kid now?
Basically, because I moved. These business models limit franchisees to one per geographical region (rightly so) and when I moved from Rochester, NY to Phoenix, AZ there were not any nearby territories available. I waited for about 6 months before making the decision to do what was best for my family, which was venturing out with an independent blog (which you're reading now!) and accepting a similar position working for a competitor, KidsOutAndAbout.com (not a franchise). But, no hard feelings! I still love seeing the MacKid mamas out at local events, and believe that Macaroni Kid provides a great opportunity for mama's looking to launch a business that is VERY family-friendly!
Other Blogger Networks
If you decide to build an independent blog (like I ended up doing in the end), there are free networks you can join to connect with review opportunities, like US Family Guide, Linqia, RippleStreet, and BlogLovin. These networks helped me connect to big name brands when I was just starting out and each allow you to make a little money and/or be given free product in exchange for your reviews/promotions.
Conclusion
I believe that starting a mom blog is a great opportunity for moms who want to supplement their household income and/or provide some cool opportunities to their families. I am grateful for the franchise opportunities like Macaroni Kid and HulaFrog, and often recommend them when I meet a mama looking for a boost to beginning her blogging business. I explained why I chose Macaroni Kid over HulaFrog, and could write a whole book on how amazing those 2 years of my life were as a Macaroni Kid Publisher Mom (maybe another day). Whether you want to build it from the ground up yourself… or prefer to work off of a templated system built by a reputable company like Macaroni Kid or HulaFrog… becoming a mom blogger and/or digital influencer is a great way to make some extra money and involve your kids in the process!
You may also want to check out Episode #10 of the FamilyPreneur Podcast, in which I interview Vicki DeLuzio. Vicki launched an independent mom blog in Surprise, Arizona and when I brought KidsOutAndAbout.com to Phoenix, it made us competitors… but, we believe in collaboration over competition – and that's what we discuss in that episode… so check it out HERE.
Next Steps
Once you've made the decision to launch a mom blog, you'll want a social media presence for your newly founded business – but don't make the mistake of trying to be present on any platform… instead, identify the best place to START, master one platform, and expand from there.
I've consulted with industry-leading social media experts to bring you free video tutorials and a workbook that will guide you through identifying what the best social media platform will be for YOUR business at IntroToSocial.com. Sign up below to receive access to the downloadable workbook and video guides.
---
* I am no longer affiliated with Macaroni Kid in any way and was not compensated for writing this post. It's one of those questions I get asked a lot and just wanted to put it out there for anyone who is wondering!
---
ABOUT MEG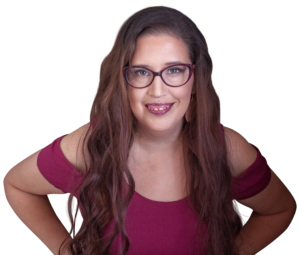 Meg Brunson has been marketing to moms for over 7 years. She is the founder and CEO of EIEIO Marketing, a digital marketing agency focused on Facebook Marketing for family-focused businesses.
Meg is also a former Facebook employee with a passion for helping bootstrapped businesses figure out Facebook so that they can promote like the pros! She left the 9-5 in 2017, so that she could be the mom she wanted to be to her 4 young daughters.
After helping her daughter launch her first business, Storytime With Kiki, at the age of 10, Meg began hosting the FamilyPreneur Podcast: an interview-style podcast for parent entrepreneurs, raising entrepreneurial children.