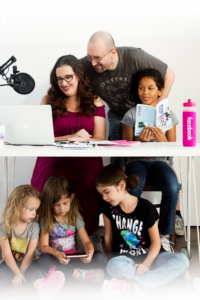 As a former Facebook employee, I founded EIEIO Marketing to combine my passion for helping businesses figure out how to leverage the Facebook platform, with my love for family-focused businesses. As a parent-entrepreneur myself, I love seeing other families find success with entrepreneurship – and discover products and services that make being a mom easier and/or more fun!
Our clients are typically either parents themselves, or they are family-focused in the way that they do business or the products/services they produce. If you wonder why my kids are plastered all over my website and question the professionalism of this agency for that reason – you are not the right fit for us.
Agency services are best suited for the business who has at least $1,500/month to invest in their Facebook Ads. We are a results-driven agency, and when you work with us, you will see results in the form of leads, traffic, and revenue.
If the budget seems a little steep for you – we totally get it – that's why we have other options that may be a better fit – like mentorship, courses, or our free resource library. We recommend starting at the place that makes the most sense for you right now – and we'll be here, ready to serve you in the future!

Ready to get started?

Still have more questions?

Visit EIEIOMarketing.com to learn more about Meg's Marketing Agency… or, we're happy to exchange a few emails or hop on a quick consultation call to see if we'd form a good partnership!
Request a Consultation and/or More Information