Meg is a professional speaker making regular appearances in the news, on podcasts, at virtual events, and at in-person conferences.
She is always happy to provide a quote for news stories, as well as participate in panel discussions, interviews, and/or delivering presentations to aligned audiences.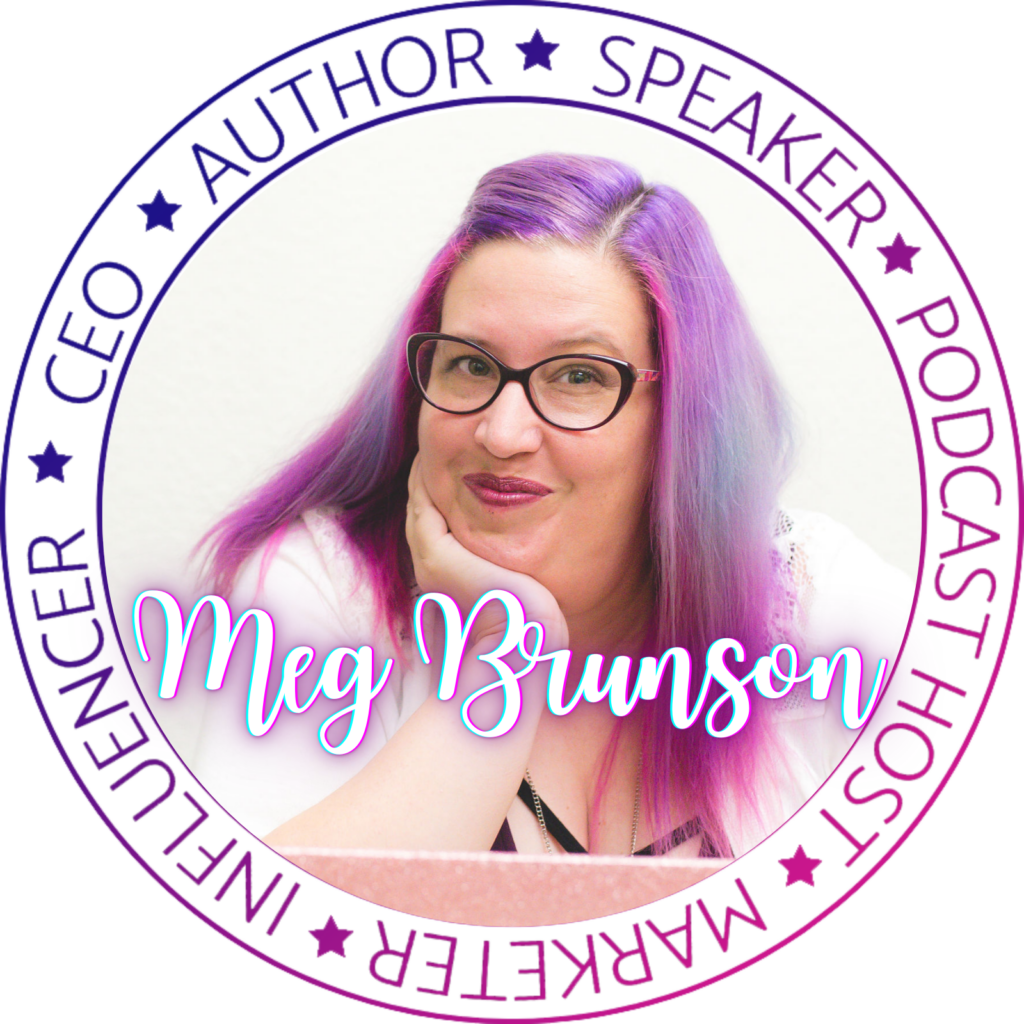 Meg was a serial entrepreneur on a mission to provide a better life for her family, with no formal business training to rely on. After immersing herself into learning everything she possibly could about marketing, she not only became a sought out expert in her niche, but was sought out by Facebook themselves.
While employed at Facebook, Meg expanded her knowledge and experiences, while maintaining her ability to simplify material so that bootstrapped businesses could promote like pros. The desire to be more present for her family (including 4 young children) influenced her decision to leave Facebook and return to a life of entrepreneurship.
Meg is currently RV'ing full-time throughout the US with her family, while empowering others to build profitable businesses without sacrificing family-time.
Social Justice is a top-priority for Meg, who is proudly raising a Black daughter and a Nonbinary child while building a progressive business focused on dismantling systems of oppression.
You may know Meg from:



Areas of Expertise
Meg would love to offer value to your community, whether that's through delivering one of her existing presentations, or customizing something for your audience.
What Others are Saying
Meg is absolutely amazing at what she does to help you understand all things related to Facebook marketing. She knows the ins and outs like no one else. Meg is an exceptional instructor as well. She thoroughly explains what needs to be done and what actions you should take to get the results you're looking for. Meg is so easy to work with, you'd think you had known her for years if you've never worked with her before. I have had the opportunity to work with her on multiple projects and look forward to working with her again in the future. Thanks Meg for all your help!
~ Michele Lennon
Request Meg for Your Next Virtual or InPerson Event:
We'll fit in as many aligned speaking engagements as possible.
Meg's Bio
471 characters | 71 words
---
Meg Brunson was a mommy blogger turned Facebook employee who left the 9-5 for a life of freedom and flexibility. She's currently RVing throughout the US with her family – including 4 kids and a pit bull pup – while simplifying marketing strategies for family-first entrepreneurs building profitable businesses that prioritize inclusion and social impact. 
Meg is a professional speaker, children's book author, host of the FamilyPreneur podcast and CEO of EIEIO Marketing.
300 characters | 50 words
---
Meg Brunson simplifies marketing strategies for busy parents – with progressive values – so they can build profitable businesses, without wasting time & money.
Meg is a professional speaker, children's book author, host of the FamilyPreneur podcast and CEO of EIEIO Marketing, & mom to four incredible kids.
Suggested Interview Questions
Marketing
❓ How do you know if you're ready to run Facebook Ads?
❓ What is the one ad that every business should be running?
❓ How do you keep up with all the changes Facebook makes?
Entrepreneurship
❓ What is the secret to finding "balance" between family & business?
❓ Why is blogging a good way to get started as an entrepreneur?
❓ How can we encourage our kids to be entrepreneurial?
Full-Time Travel
❓ How is full-time travel affordable for the average family?
❓ How did you overcome objections from your husband?
❓ What have been the unexpected challenges of full time travel?
Diversity, Equity, & Inclusion
❓ When should kids begin to learn about racism?
❓ How do you get started advocating for social justice issues?
❓ Do you repel people by bringing politics into business?
Downloadable Assets