She is a systems' expert, and a productivity geek who helps impact-driven entrepreneurs get 10-20 more productive hours a week, stop leaking money, and prevent stress-fuel breakdowns. She's an engineer by training, and came to a realization a couple years ago: working for a conglomerate was not as inspiring as she wanted her life work to be. The quest for inspiration brought her to found Vision Framework, a company that builds small, purpose-driven businesses from the inside, helping entrepreneurs run their companies with ease by putting effective, easy-to-use, and fun (yep!) systems in place. Today we're going to talk organization and productivity systems with Marina Darlow…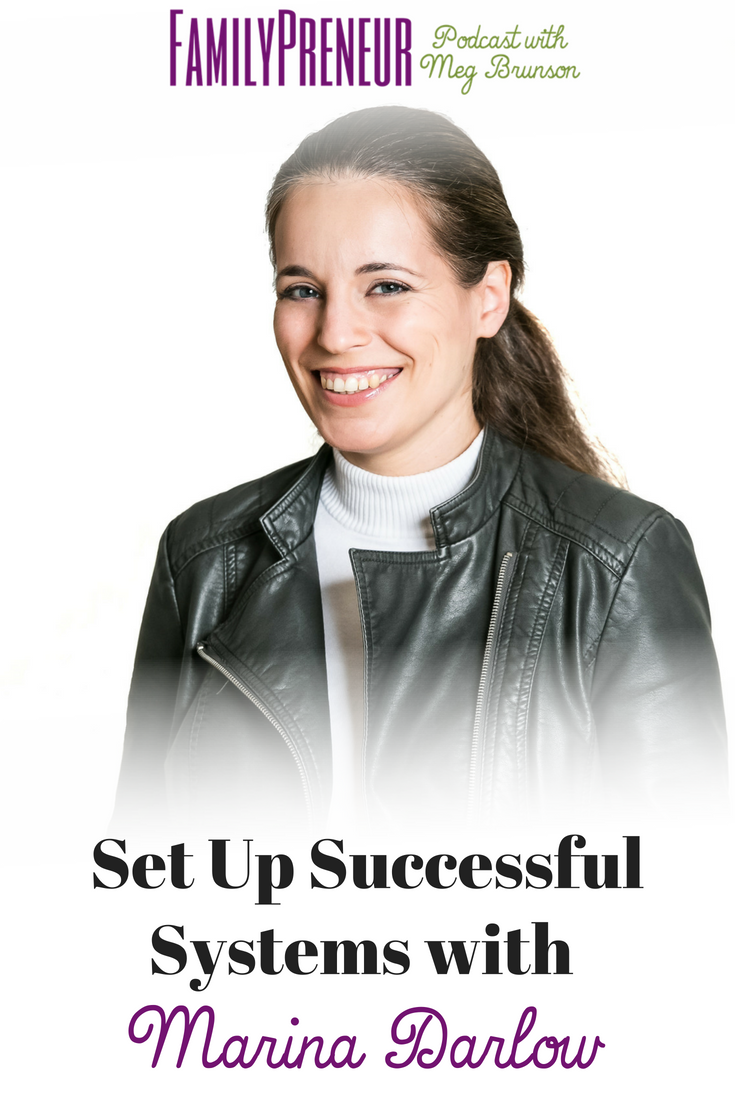 Sponsored By EIEIO Marketing
Facebook Advertising does not have to be stressful and overwhelming, not when you have a former Facebook employee in your corner! If your business is looking for a reputable agency to manage your Facebook Ads for you, visit EIEIOMarketing.com and reach out for a free consultation today! When you think about your Facebook Marketing strategy, always remember EIEIO – where their name isn't just cute, it represents the ideal Facebook strategy: Engage, Interact, Educate, Influence, & Optimize!  

The Notes
Marina Darlow was trained as an industrial engineer. While she found great success in her work as a project manager, she doesn't look back on her time with great fondness. She left her project management career and enrolled in an interior design degree.
She joined a person/business development program so she could "figure out what she wanted to do with her life." She didn't feel like the other "Demi-God" entrepreneurs out there but found her success when her friend came to her help with her own business. Marina helped her crunch numbers and figure out what she needed to do to have a successful business.
"Apparently that was valuable, because to my great surprise, not everybody knew how to do this and definitely not everybody wanted to this. This is how my business was born."
Marina speaks about finding value in your own skills. "When we don't value ourselves, we actually do a disservice to those who don't think [what we do] is super easy."
Marina was a mom of a young toddler when she shifted to owning her own business. She says the results and success she is able to see of the work she is doing for others, "It's hard to describe this feeling. It's the reason to get up in the morning."
When there are instances Marina has a busier than normal schedule she remembers, "A, this is temporary and B, this is how business is."
In involving her now nine-year old daughter in the business, Marina describes how her daughter is very good at validating her content. When she has an email that going to be sent out, if she can explain it to her daughter in a way that makes sense, then she's good to go. "It's a huge productivity tool. Explain your stuff to your kids—If they understand, then you're good to go!"
Marina's number one piece of advice is to," Be very open about what is going on in your business. And if you see a spark of interest from your kid, talk to them about it."
"When it comes to you being who you are professionally, I think it's a great idea to communicate that to your children."
---
Meet Marina Darlow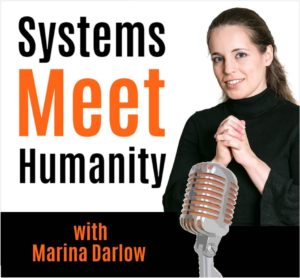 Marina Darlow is a systems' expert, and a productivity geek. She sees her job as helping impact-driven entrepreneurs get 10-20 more productive hours a week, stop leaking money, and prevent stress-fuel breakdowns.
An engineer by training, Marina came to a realization a couple years ago: working for a conglomerate is not as inspiring as she wants her life work to be. The quest for inspiration brought her to found Vision Framework, a company that builds small, purpose-driven businesses from the inside, helping entrepreneurs run their companies with ease by putting effective, easy-to-use, and fun (yep!) systems in place.

Find 
Marina
---
Last Show
Nicole Connell is an Educator and Mentor in the Bay Area. Although she is a certified Educational Therapist, she prefers the title "personal learning fairy godmother." She loves supporting children to stay connected to their inner knowing and big ideas. She helps parents see the brilliance in their children even if they don't fit into the box and advocates for perspective and paradigm shifts in the educational realm.
Next Show
What are two of the greatest skills your child will need to be successful in life? 1) Positive CHARACTER skills and 2) being smart with MONEY! Two zany and loving grandmas, Debbie Todd, a spunky CPA, and Phyllis Matson, an amazing theater creative have merged their passions to bring belly laughs and fun learning to your amazing kiddos age 3-9 – using online interactive theater! Their Adventures in Puppetopia and Smart Money Commanders™ programs, bring short, powerful and practical lessons right into your home…with lots of easy-to-follow activities for your little commanders and helpful "teachable moments" resources for parents too!
---
---
About The Host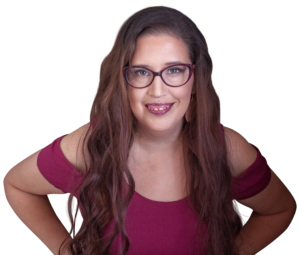 Meg Brunson has been marketing to moms for over 7 years. She is the founder and CEO of EIEIO Marketing, a digital marketing agency focused on Facebook Marketing for family-focused businesses.
Meg is also a former Facebook employee with a passion for helping bootstrapped businesses figure out Facebook so that they can promote like the pros! She left the 9-5 in 2017, so that she could be the mom she wanted to be to her 4 young daughters.
After helping her daughter launch her first business, Storytime With Kiki, at the age of 10, Meg began hosting the FamilyPreneur Podcast: an interview-style podcast for parent entrepreneurs, raising entrepreneurial children.