The product we have the pleasure of reviewing (and GIVING AWAY) today is the Kiddo Lab 2 in 1 Activity Center. The table has 6 features; a moving star, a spinning rattle, a mirror that opens and shuts, a squeaker button, a spinning alphabet, and  three light up color and number buttons that play music. The toy can be utilized as small table but you also have the option of removing the legs and attaching it to the crib. 
Thanks to Kiddo Lab for sponsoring this review. All opinions you're about to see/read are honest, and our own…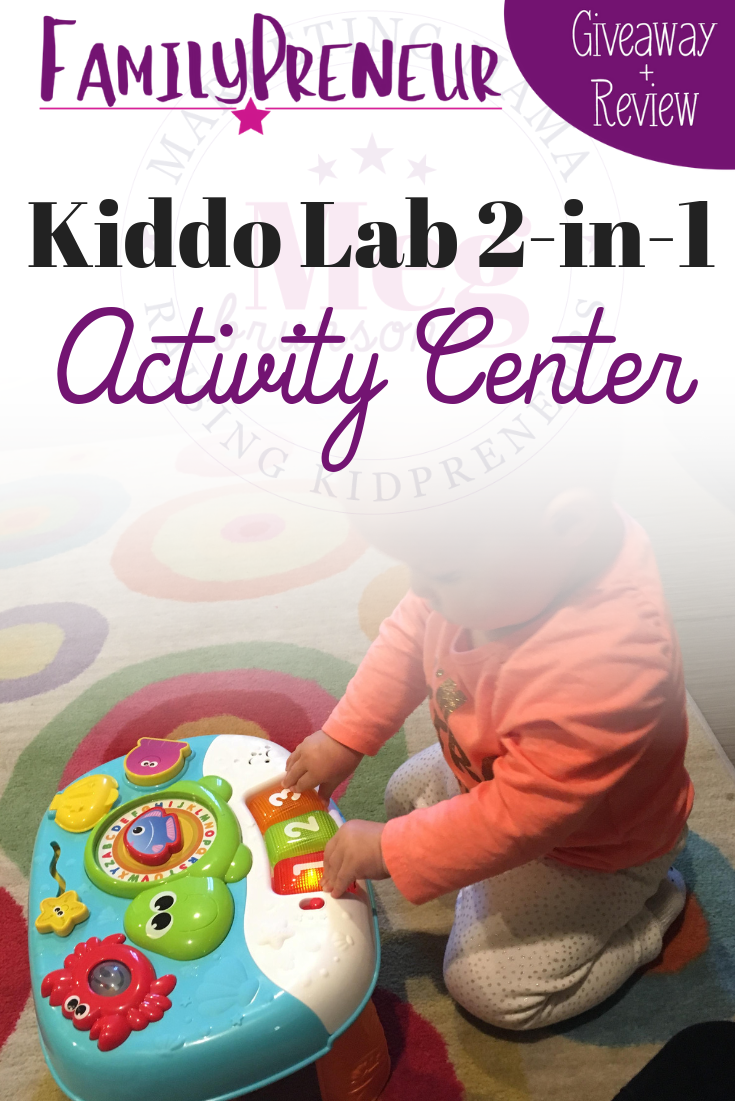 Keeping up with my 13 month old is no joke. Toddler attention spans are actually documented as being 1 minute in length to attend to any particular toy or activity. That being said, any toy that could engage a kiddo for longer than 1 minute is awesome! The Kiddo Lab 2-in-1 Activity Center was a hit with my daughter. It is probably not a fair assessment, since she is in love with all things music, even my made up songs sung out of tune. But there were a few aspects of the toy that specifically made me want to keep this toy in our current collection.
Size: I appreciate that the Kiddo Lab 2-in-1 Activity Center is the right size for a baby or toddler to focus on the different activities. Paige was able to get her hands on every element of the toy and manipulate it all by herself. Each of the activities gave her feedback with noise or movement so she wanted to play with it again. Because Paige is walking, she actually really enjoyed being able to pick up the table and put it where it was comfortable for her to play.
Music: I will say that I am the parent who is guilty of convincing children that toys are actually broken instead of just putting a couple of batteries in a toy. I assure myself I am encouraging even more imagination and creativity when I do this. That being said, I may have stolen two batteries from the remote to power up the toy, but I would say it was worth it. The music it plays is unique and got Paige moving and it was fun enough that we were both actually getting into the original and silly tunes.
Multipurpose: As a mom, I appreciate ANY toy that has more than one purpose. There simply isn't enough space (or batteries) in our house to find a home for toys that can only be used one way. The legs on the table can be removed and the Kiddo Lab 2-in-1 Activity Center can be attached with plastic straps to the crib to entertain the baby independently. For some kids, I think this would be really helpful for creating some opportunity for independent play and may even help babies make some more positive associations with their crib. Personally, when it comes to sleep, this mama means business, so I would not want to communicate to my daughter that the crib is a place to play

or

sleep. That is simply a preference though, and I think plenty of parents may appreciate this feature.
I did notice that on the box, it suggests that this toy is appropriate for 9 months and older. A younger kiddo may not be able to reach the table if they are not standing, but I think this toy would be very appropriate for babies 6 months and older without the legs for a lovely way to spend the dreaded tummy time! Think of it like a TV on the treadmill at the gym.
I would definitely recommend the Kiddo Lab 2-in-1 Activity Center to any families of babies from 6+ months on.  I will need to replace the batteries in the remote because Paige will not be parting with this toy any time soon!
Save 25% with Discount Code: MEGBRUNSON25
-OR-
Enter to WIN the Kiddo Lab 2-in-1 Activity Center Today!
---
Meet FamilyPreneurs, Dee-Anna Pippenger & Paige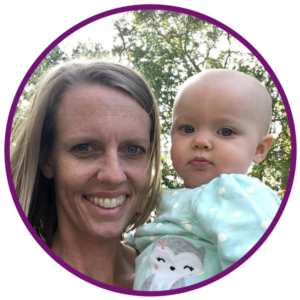 Dee-Anna Pippenger is a a girl who has worn many hats in many different seasons of her life. She is an Arizona native, but part of her heart still resides in Long Beach, California where she soaked up the beach life after college. Now in Phoenix, she loves being a mama and a wife and all the opportunities that that life has afforded. She and her husband are licensed foster parents and now biological parents to sweet and adventurous one year old Paige.
As a teacher by trade, she loves helping parents understand that they are a child's first and best teacher. Being a teacher has also fueled her love for children's literature and the local library! The adventure she's most excited about now is being a virtual assistant to small business owners in the world of parenting and education. She loves being able to work from home, collaborating with creative and passionate people while still being able to be fully present as a mom and wife.