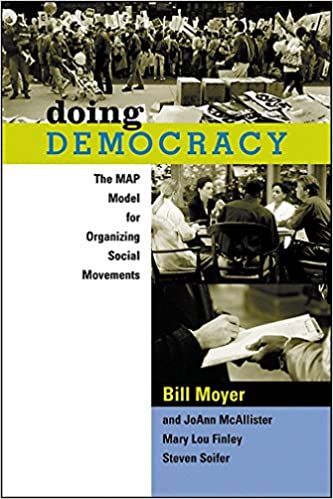 I kicked off the new year reading the book Doing Democracy: The MAP Model for Organizing Social Movements by Bill Moyer. I am one of those people who loves getting involved with demonstrations on behalf of social movements I support, and this book not only outlines what it takes for social movements to be successful, but it references many case studies of past social movements. Something I love learning about.
While reading the book, I couldn't help but think about the Just Marketing™ Movement. While it's not a true social movement like the US Civil Rights Movement or the Breast Cancer Social Movement, I began to recognize parallels between what the book was describing and what we're trying to accomplish through Just Marketing™ – primarily, the 4 roles people play in a successful social movement.
Those 4 roles are:
Citizen
Rebel
Reformer
Change Agent
It's important to note:
No one role is more important than the other,
Each role can be played effectively, or ineffectively, and
They each play an important role in the success of a social movement.
I'm not going to dive deep into how they apply in social movements, if you're interested in that, definitely pick up a copy of the book.
Here is how those roles are played in the Just Marketing™ Movement:
The Just Marketing™ Citizen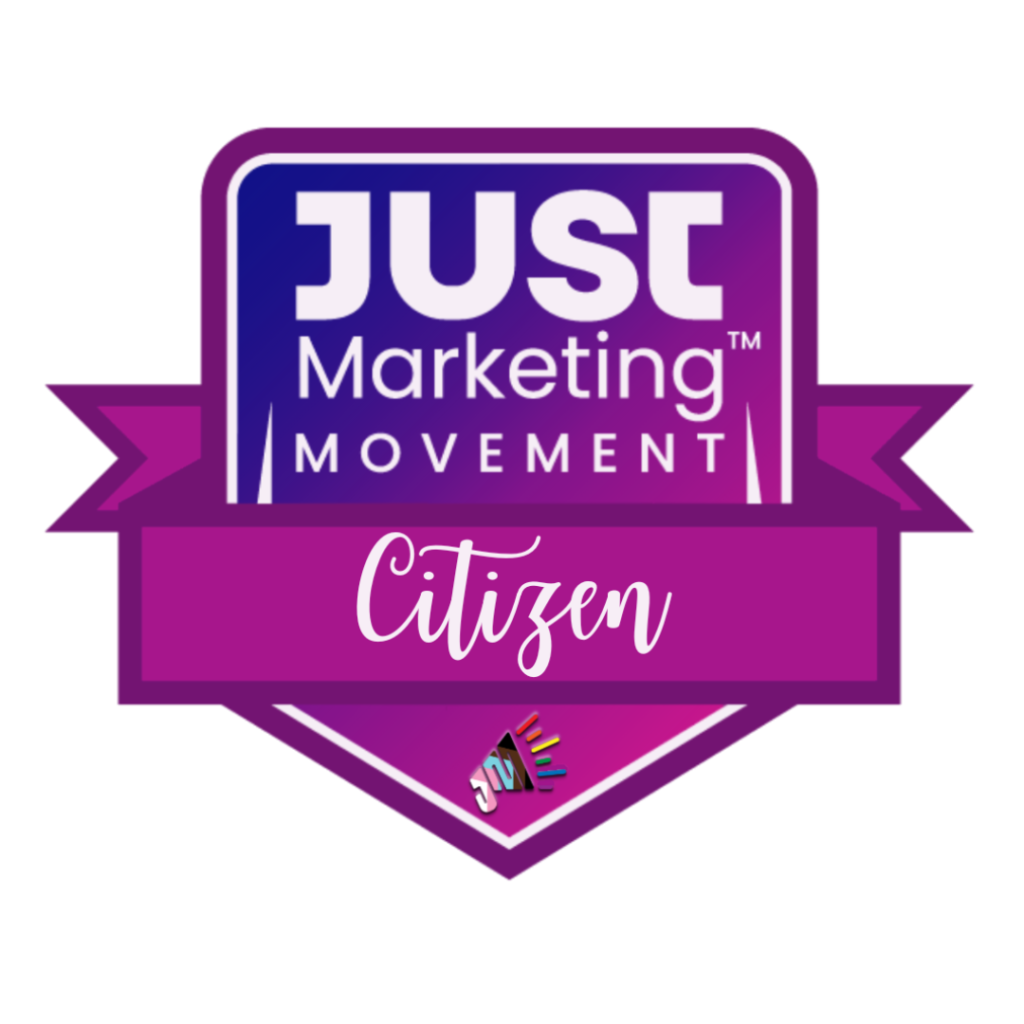 The citizens in the Just Marketing movement are the entrepreneurs, small business owners, and marketers who are adopting Just Marketing™ strategies and applying them to their marketing strategies. Thus, giving the movement legitimacy in the eyes of others.
They acknowledge that there is a problem with the status quo of marketing and they are committed to centering societies' overarching value of Justice in their marketing. By doing so, they are advocating for and demonstrating the vision of the Just Marketing™ movement.
In order for a Just Marketing Citizen to fulfill their role, they must not only accept and adopt Just Marketing strategies, but they must be perceived as "good businesses." That is, businesses who are acting in the best interest of the general profit. We define this as valuing people over profits.
It's also important that Just Marketing™ Citizens don't condemn the people who are not following Just Marketing™ practices. We need to aim to educate and influence, not mock and humiliate.
We will only achieve our long-term vision by incorporating Just Marketing™ into our everyday practices – and that is what Just Marketing™ Citizens are focused on.
The Just Marketing™ Rebel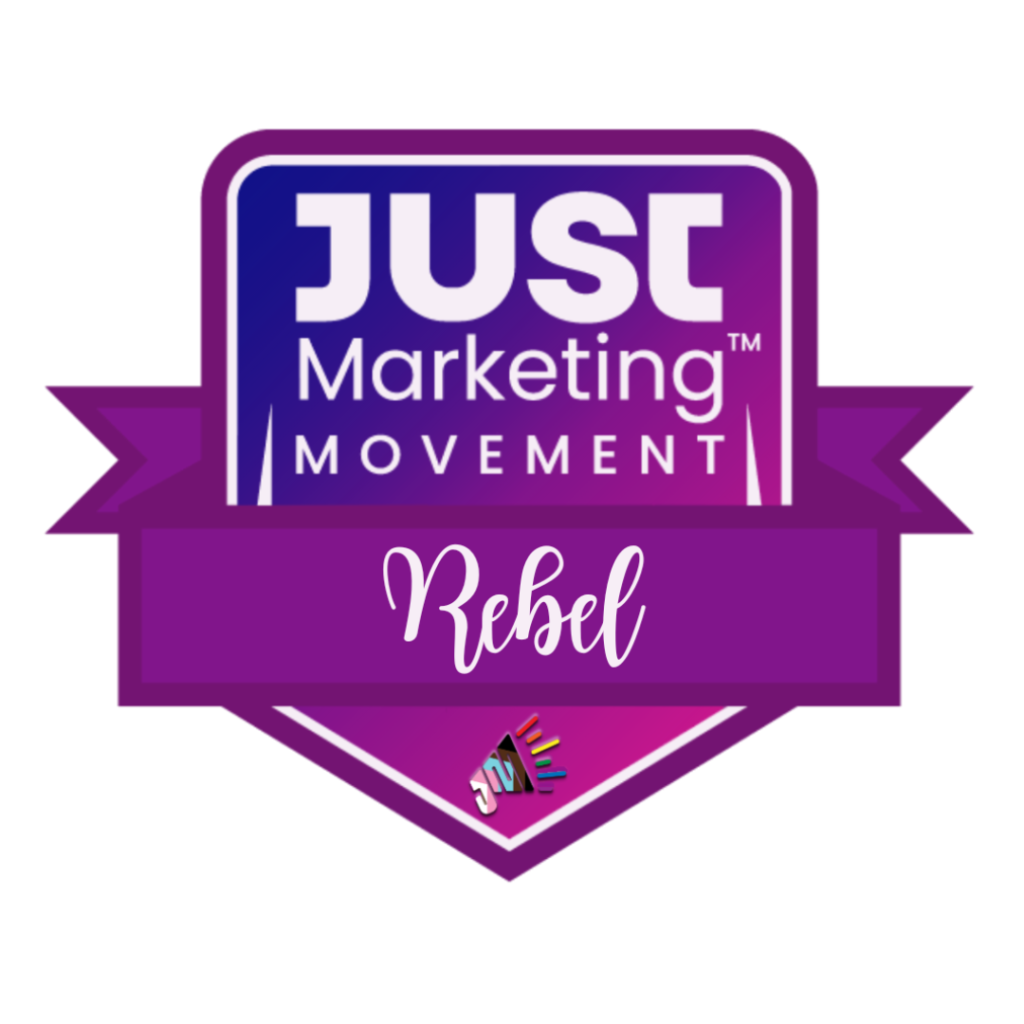 Rebels in the Just Marketing Movement are the ones who put the problems with the status quo of marketing into the public spotlight. They are often dramatic and/or controversial in their education of others. Some ways this looks includes:
Calling out unjust marketing when they see it – OR – publicly applauding Just Marketing™ when they see it. Commenting on social media posts/ads or creating a unique post to dissect the marketing decisions and explain the lessons that can be learned.
Demonstrate online through social media, videos, reels, blog posts, etc. This is where some of that drama and controversy come into play.
Rebels are courageous, and willing to take risks. They know that by being public with their opinions and commitment to the movement, they're likely to face ridicule from people who don't identify the status quo as being problematic. They also may face burnout – feeling like they're always fighting the good fight, but change is so slow. In some cases, this could even cause fallout with friends who share different beliefs or loss of employment if you're working for someone who firmly believes in prioritizing the businesses goals over all else.
The Just Marketing™ Reformer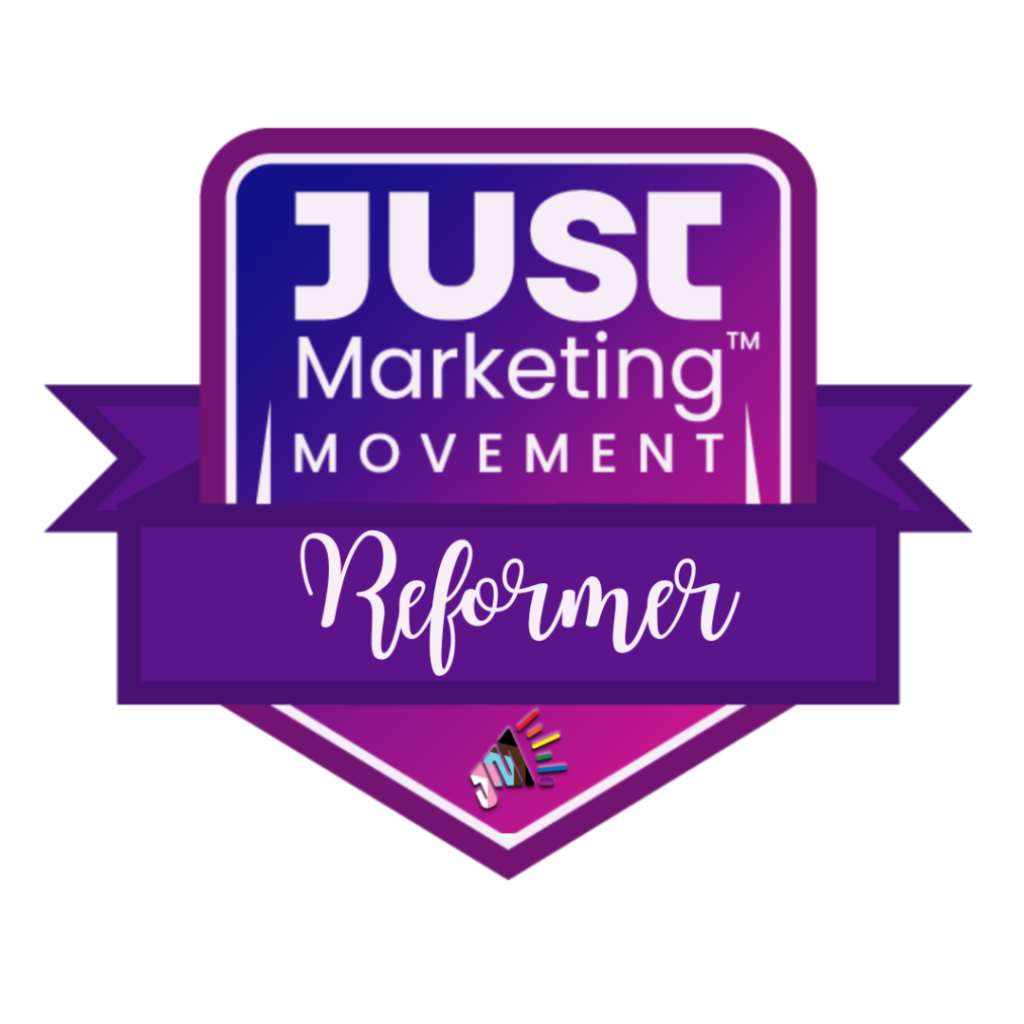 Reformers have the role and responsibility to reform existing systems, as an employee or contractor of a business who has yet to adopt Just Marketing strategies. Most people will start as Citizens, acknowledging the problem and committing to learn more and do better, and those who are currently in a power dynamic in which they lack power will often take on the reformer role out of necessity. Alternatively, the role of reformer could be taken by someone who is consulting/contracting with another business/client.
The reformer must be able to convince others in power that they should abandon what they're currently doing (which may even be working) in order to adopt a more Just approach to marketing. This often requires access to analytics and goals and working cooperatively with powerholders, in the form of business owners, CMOs, and other individuals.
Additionally, reformers often turn into watchdogs, monitoring to ensure that new policies and practices are actually being implemented.
The Just Marketing™ Change Agent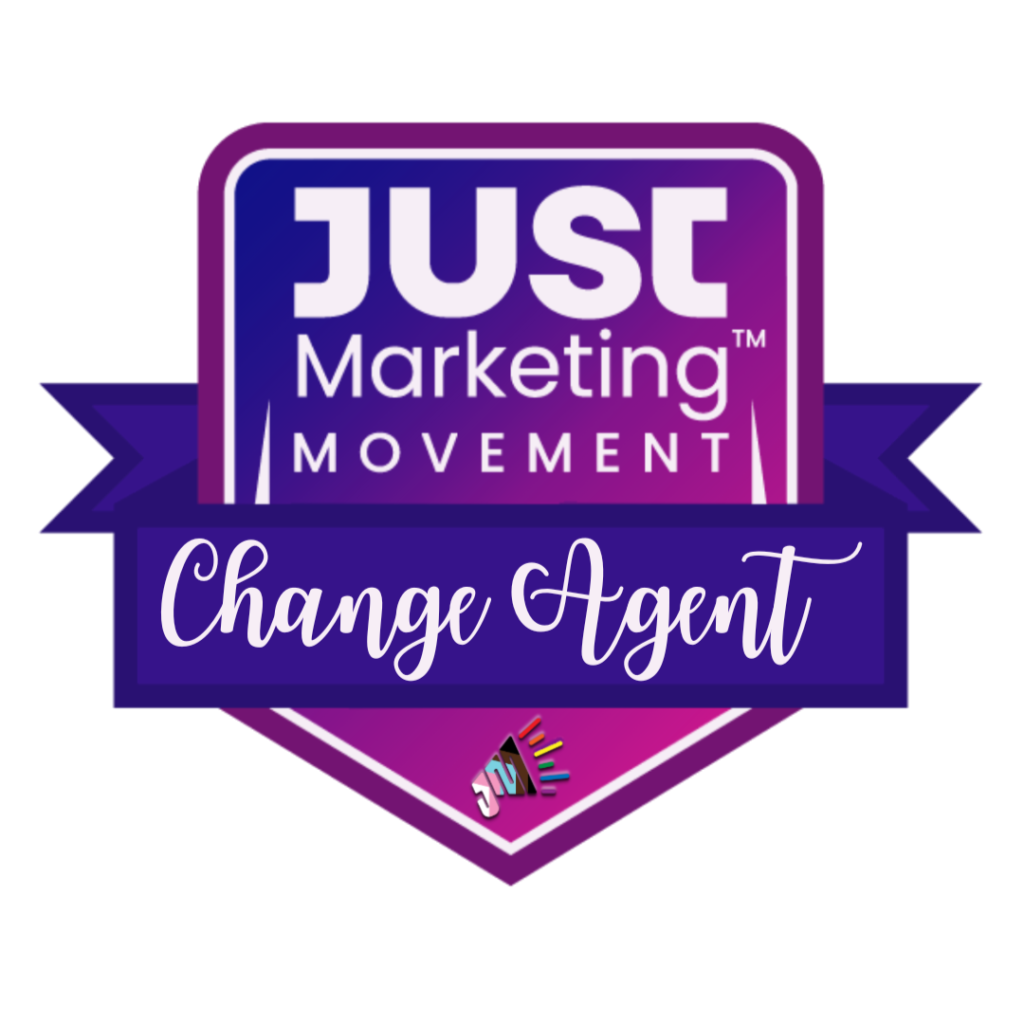 Change Agents in the Just Marketing Movement are often less visible than the rebels. Their goal is to create an open space focused on discussion that welcomes all voices and perspectives that are willing to abide by basic rules of inclusion and respect. The world of Just Marketing is constantly evolving, and no one has "the answer." This is why the form for discussion is so important.
Change Agents are focused on getting others to join the Just Marketing movement in the way that makes the most sense for them. Likely, starting as a citizen. In order to do this effectively, they must be able to show how the problematic aspects of status quo marketing impact multiple sectors of society. For example: women, People of Color, Atheists, Overweight people, people who are neurodiverse, the list goes on and on.
Change Agents are focused on shifting the paradigm on what constitutes a Just Marketing strategy, and what traditionally held views need to be re-evaluated. We need to change the underlying world views that caused marketing to be unjust to begin with, because only then can we ensure that the changes we're aspiring to make can be made – and that they won't revert back to old strategies. For this reason Change Agents are also often focused on anti-racist or decolonization initiatives, as well.
These changes do not happen quickly, so Change Agents should be prepared to be in it for the long-haul.
The 4 Roles, Working Together
The Just Marketing movement requires people in all 4 roles:
Citizen: acknowledging the issue and committing to make personal changes
Rebel: publicly demonstrating the problems and solutions
Reformer: convincing those in power to implement changes to proven systems
Change Agent: providing the space for discussion and paradigm shifts to happen
It's essential that no one thinks that their role is more important than others, and that we all work together – as allies – because cooperation and mutual support will enhance the likelihood of success. Competition will always reduce effectiveness.
For example, a reformer may think that the rebel is hurting their liklihood of success because the people in power often don't like rebels… but reformers have to remember that the role of the rebel is important when it comes to rallying public awareness and support.
You may find that you take on more than one role, which is totally fine. Some people flow through different roles depending on the time and place.
How Do You Join the Just Marketing™ Movement and Get Your Badge?
I'm glad you asked.
Joining the Just Marketing Movement is easy – you simply have to acknowledge that the status quo of marketing is unjust and begin implementing Just Marketing strategies into your marketing mix. If you don't know where to start, you can access the Just Marketing Checklist here. Remember that this list is robust and you don't have to do all of the things all at once. Implement changes in your marketing strategy one thing at a time, and then add new changes as you master the previous one(s).
Now, let's get you your Just Marketing™ Citizen badge and get you listed in the Just Marketing™ directory. Simply enter your best information in the form below. We manually process each application and (often within 2-3 business days) you'll receive your badge via email. When you post your badge anywhere online, you'll want to link to your directory listing so that people know you're legit.
Don't just copy the badge from this page and plop it on your website – it's unjust – plus you want the perk of being listed in the directory!
Complete This Form To Be Listed In The Just Marketing Directory & Receive Your Citizen Badge:
Processes for obtaining the Rebel, Reformer, and Change Agent badges will be announced later in 2023. By grabbing your Citizen badge now, you'll be kept in the loop to claim your additional badges when they're ready.