When we look at holiday shopping behavior, it's interesting to note that approximately 20% of holiday shoppers begin their holiday shopping in October or earlier, and another 50% of shoppers start in November… but, as marketers, we have to begin planning our holiday ad campaigns NOW (if you haven't begun already).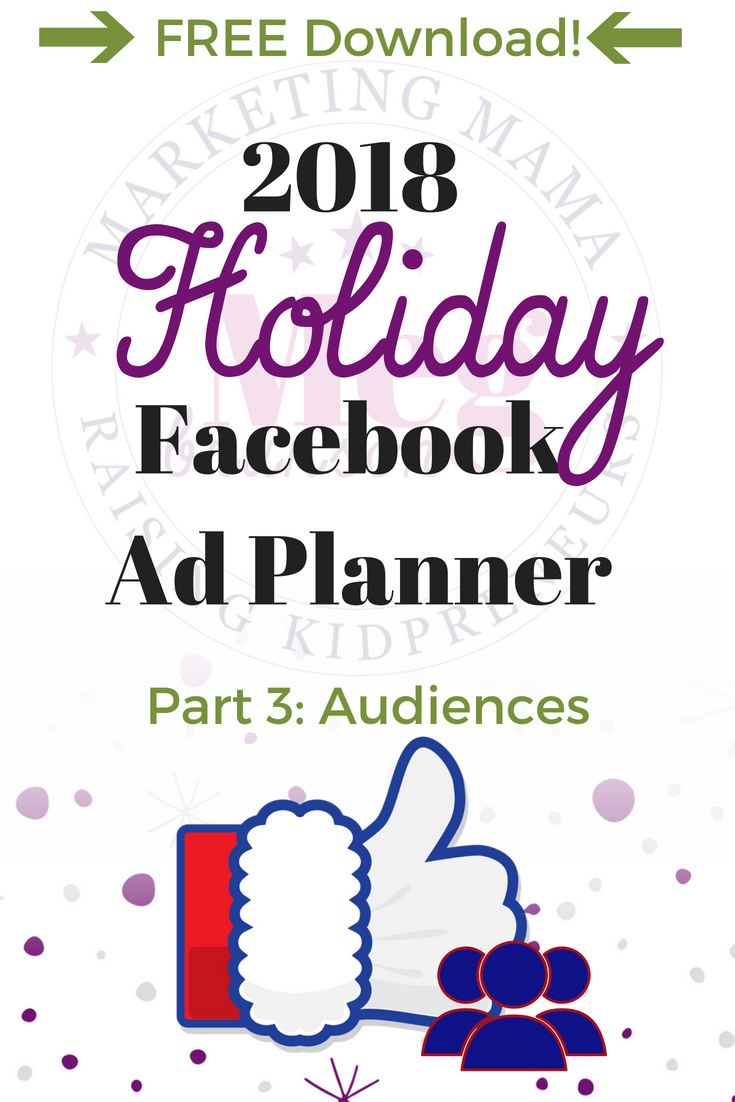 It may only be August, but I promise you that the most successful Facebook marketers are already elbow-deep in holiday ad campaign planning – and you should be too!  Over the next few weeks we're going to walk through the steps you should be taking to prepare for a successful holiday.  So far, we've discussed:
Now that you've got the Facebook Pixel installed, we're going to discuss leveraging the Pixel Data to build Facebook Custom Audiences!
Why are Custom Facebook Audiences Important?
When you're running Facebook ads, it's easy to think that you want to simply promote your product and encourage people to buy from you… but, in most cases you're not going to have success with that strategy. People need time to establish trust in your business. It can take up to 7 "touches" before a cold prospect get to know, like, and trust you. And that's why you want to build a sales funnel with your Facebook Ads.
You want "top of the funnel" ads that are inexpensive to run that drive traffic to your website… then further down the funnel, you'll want to retarget those people who have demonstrated interest by visiting your website, viewing content, adding to their cart, etc.
Creating Custom Audiences
To create a custom audience, start in your audience dashboard (see those 3 lines in the upper right hand corner? When you click there and then hover over "all tools" your'll see Audiences listed in the main menu). Click the "create audience" button…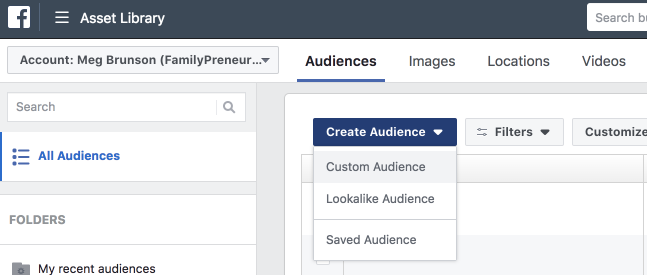 Then, select "Website Traffic" so that you can build audiences based on web activity.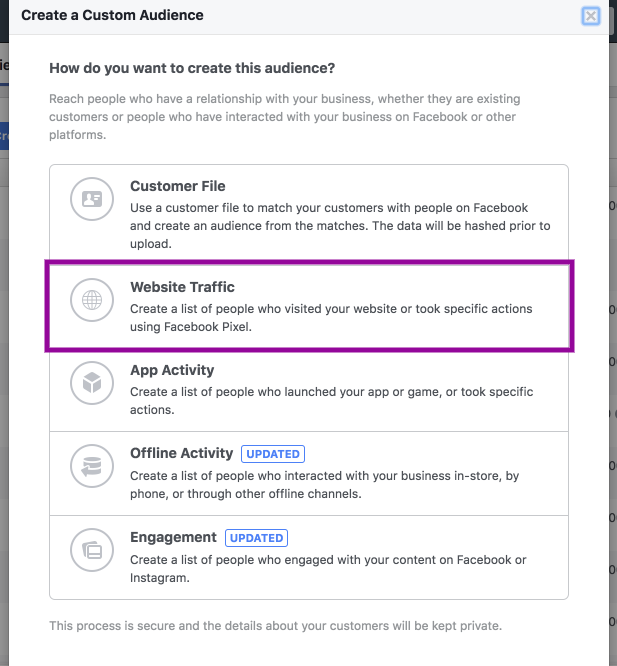 You can click the drop down menu (it defaults to "all website visitors" and identify that you only want to track "people who visited specific webpages."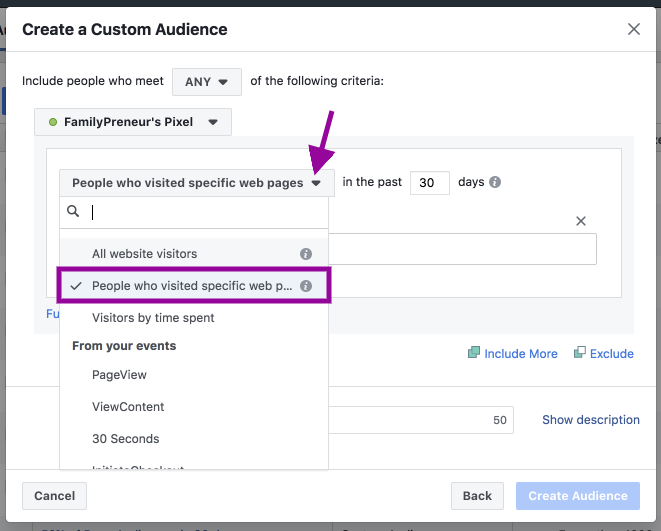 Then, go to your website and copy the path for the webpage you want to track – start with the thank you page indicating purchase (or the highest level of intent in your sales funnel).
What the HECK is a path?!  Good question!
www.megbrunson.com/free

www.facebook.com/theMegBrunson

www.megbrunson.com/holiday-ad-campaigns
The path is bolded above – it's everything after the ".com/"
As long as your website has dynamic webpages (which means that the change when you click onto new pages – most do!) you can create audiences this way!
So, again, start with the page that indicates the highest level of intent/commitment – such as the thank you page for a purchase.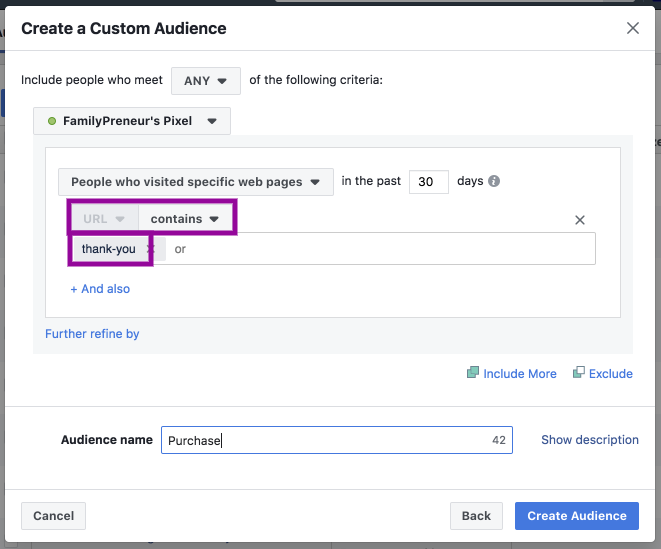 After you've created the highest-intent audience, you'll want to back-track and create an audience for each step in your customer journey. For example:
Purchase > Cart > View Content 
Now that you have these audiences created, you can leverage them for targeting your audiences. You can include or exclude these audiences from seeing your ads. You may want to include people who have viewed content in the past 30 days – they are warm and will be more likely to purchase… and you'll probably want to always exclude people who have purchased from seeing your ad – thinking about how much time typically will lapse before a customer becomes a repeat customer. For some businesses this may be 30 days – for others it may be a year or longer. Pixel makes this all possible!
---
Are you ready to improve your Facebook Marketing – but not sure where to start?
Take this super fun (and accurate) quiz to discover what you need to do right now to uplevel your marketing!
---
About Meg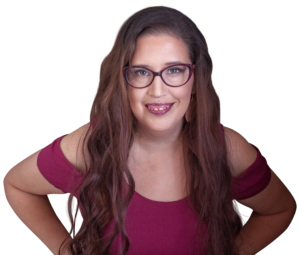 Meg Brunson has been marketing to moms for over 7 years. She is the founder and CEO of EIEIO Marketing, a digital marketing agency focused on Facebook Marketing for family-focused businesses.
Meg is also a former Facebook employee with a passion for helping bootstrapped businesses figure out Facebook so that they can promote like the pros! She left the 9-5 in 2017, so that she could be the mom she wanted to be to her 4 young daughters.
After helping her daughter launch her first business, Storytime With Kiki, at the age of 10, Meg began hosting the FamilyPreneur Podcast: an interview-style podcast for parent entrepreneurs, raising entrepreneurial children.