She believes that pursuing our passions and building our dreams while including our children in the process, is the best way to build thriving businesses and families, and ultimately we need to show our children that doing what we love can be financially viable. She is a mother, author, speaker, business strategist, podcaster, blind spot reducer, and movement maker. She launched the Boss Mom brand with her first book Boss Mom: The Ultimate Guide to Raising a Business & Nurturing Your Family Like a Pro and quickly grew to a six-figure business within a year. Now she has over 10,000 students in various courses, helping women all over the world raise their businesses and babies at the same time – The CEO and Founder of Boss Mom, Dana Malstaff!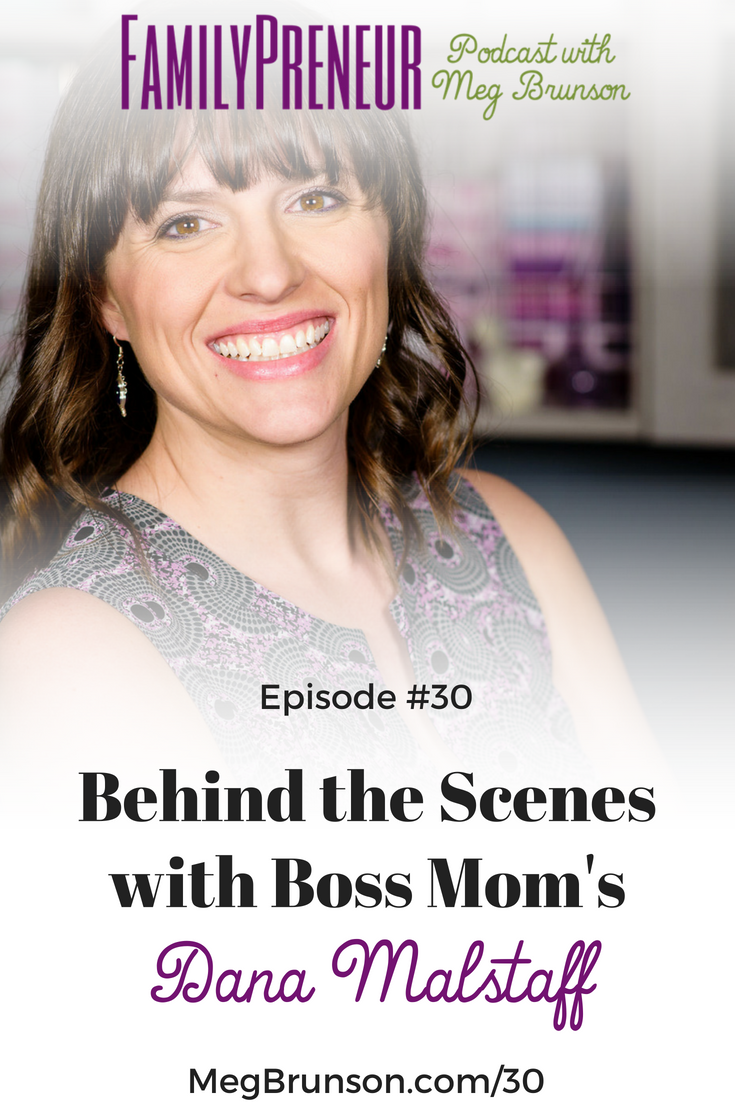 Sponsored by
Today's episode is brought to you by my Facebook Mentoring program. It's a BIG opportunity for entrepreneurs looking to make BIG things happen with Facebook!  This is a 90-day program that will be customized precisely to fit your businesses needs. At the end of that 3-month period you will be equipped to run Facebook Ad Campaigns that will increase your traffic, leads, and (most importantly) generate more revenue for your business!  Cha ching!  Due to the level of support I am providing, this offer is limited, and expected to sell out quickly, so act fast. Visit MegBrunson.com/Mentor for more info and to see if you'd be a good fit!

Transcript
Meg Brunson (01:25): Hi Dana. Thank you so much for being here with me today.
Dana Malstaff (01:28): Oh, I am super pumped. I love these topics. I love what your podcast is all about, so I'm in. Let's do it.
Meg Brunson (02:18): Awesome. So you have built quite the Boss Mom empire. You've got books, podcasts, facebook groups, in person events. Tons of cool things rolling out going forward. I'm really excited to dive into your story and I'd like to start by taking a step way back and asking you about your childhood. So could you share some information about your childhood and how your parents impacted your career path?
Dana Malstaff (02:42): Yeah, no, and I love this question because as a parent with a three and a five year old, I think about this a lot and that's part of what I love about, like the topic of this podcast, right? And so my parents were, we call ourselves the MacGyver family, which is: "why buy it, if you can build it," was really the mentality. So my dad would like, he had this little sort of chest and we do scavenger hunts a lot. Like for all of the holidays for um, like Easter. You didn't get your Easter basket in front, you have to find your Easter basket. Like it was, you know, we had these use these skills and my mom would draw maps and they would put little prizes and things. And you know, my, we didn't have a ton of money. So my dad built like this little wooden car with a rope from one side of the yard to the other and he would pull it and you'd go to one side and then he'd pull it back and we turned around and you go to the other side. So from a really young age we learned about building and about creation and about resourcefulness which is, you use what's around you. Like I remember taking cardboard boxes and my mom can draw, and so she would draw picture frames and different things and they would make a little cardboard house, not even a cardboard house. It'd be like, it would just be the walls around it and then the top would be open, but she would, it would look like a house inside in the middle of our living room. And then that's where we would play. So from a really early age, I got that excitement of building something like the excitement of, "Ooh, what could we do with this?" Which I think really just helps open up that creative brainstorming part, which is why I'm such a brainstormer. And then when my parents got divorced when I was five, which was a perfect age for me and my step dad is like my hero and truly open like what I. The thing that I saw from my childhood is that the relationships that you have matter. Because my mom became my mom in the sense that the personality as an adult, seeing how she was when she was younger and seeing who she is now. I looked at her and my dad and I go, "Oh my gosh," like she would have never blossomed in that relationship. Not because my dad's a bad guy. My Dad's an amazing guy, but they just, they didn't fulfill each other and sort of ignite in each other the parts of their personalities that are awesome. But my step dad and her, they do. They both flourish together in the things that are awesome about them. They love and they're both massively creative. So my dad would write a book and we would talk about characters or plot and we would talk about who did we meet at school that day. And tell me a story about them. And we do a lot of word play and a lot of games where it was like, okay, well let's rethink how we would talk about this. And so I do think creativity and brainstorming and resourcefulness, we're just three massive skills that I learned as a child that I think were so helpful for me, whether I was in a corporate position or, you know, just living my life and paying bills or owning my own business. And then now that I have kids, those are mainly the things that I'm trying to build for them.
Meg Brunson (05:39): So your mom, your dad and your step dad, they were all entrepreneurial though, right? They all have their own… They're all self employed?
Dana Malstaff (05:45): Uh, no, actually. So My, my real dad owned an autobody shop since I can remember. So he's always had his own business, but he would call himself a business owner. I don't think my dad would ever say he was an entrepreneur. I think you would say I picked a industry. I did it. And he's an artist so he does airbrushing. He used to, he just retired last year, but he would be in, you know, car magazines and things like that. My Stepdad, yes, my Stepdad, has been an entrepreneur and has owned multiple businesses and started businesses, you know, and he's now retired as well. My mom, no, my mom's always had a job. She's done side hustles of writing articles and doing illustration and different things like that. But no, she's always been a nurse and she's always been an IV therapist. So, PICC lines for anybody who knows nursing, is just like a long term IV and my mom's… it's hard to do and my mom's specializes in it, so yeah, she still works now. She loves what she does. Yeah. So she's always had a job. That's funny. I never really thought about that, but yeah.
Meg Brunson (06:40): I like exploring what your parents did and how that potentially impacted you. Do you have a feeling of why you went corporate first?
Dana Malstaff (06:46): It's so funny. I honestly don't think I thought about it. I don't think I thought about, um, even though it was, I grew up in a really creative family and everything like that. You just naturally leave college and look at jobs. It's just just the natural progression like you get out of school and you apply for things. And I was a broadcast journalism major so I was sending out videos to like Lubbock, Texas and like random tiny towns, you know, so that I go do video news about cats in trees and all that fun stuff. That's not exciting when you're starting at the bottom of the ladder from a broadcast journalism perspective. So I think because my head was already in, like if I want to be a newscaster, like that's a job. You don't own your own network right away, right? So I just was in that space, but I always worked for small companies. When I decided not to do broadcast journalism, I always worked for small companies, so it always gave me that sense of wearing a lot of different hats. But it still took a mentor at my very last job, who came in to do some facilitative work, asked me and a couple other people to help co-facilitate some of these workshops that he was doing. And then he kind of became my mentor and he was like, yeah, you should own your own business. Like you need to do that sometime soon. And that put the bug in my head. But until then, yeah, I just, you just kind of assume that you should be part of somebody else's thing.
Meg Brunson (08:09): And when did that change? So the bug was putting your head by your mentor, but when did you realize that, they were right?
Dana Malstaff (08:14): In my last job there was a sort of schism between the two people that owned it. They were a married couple that owned it. And so pretty much it was, there became this barrier between the people she'd hire, the people he hired and loosely, you know, normal business stuff actually, like once you've been in business you realize partnerships dissolve and business is business and you know, all those things happen. But I could see the writing on the wall that the people that he had hired, we're kind of getting replaced. So I proactively went in and I was like, hey, I can see this. Why don't we put me on a 90 day thing and I will resign, but I want to make sure my team's in place. It gives me time to find a job, that kind of thing. And I'm actually still in contact with that person that was, um, that I had that conversation with, which was like they were brought in to be the new COO – or CMO. So, um, I went to go look for a different job and during those three months there's only one company that I found that I want to work for. And when I started the interview conversation with them, I basically told my husband at the time, I said, if I don't get this job, I think you need to start my own job because like, I don't know anybody else I would want to work for. And it came down to me and one other guy and they called me and they said, Gosh, we just, we loved everything about you. We really want you to work here, but we only have one position and this guy has this one piece of experience you don't have. I was like, okay, and that's when something clicked in my head, "Oh, if I own my own business, they don't have to hire me as an employee." The I only have enough resources to hire one employee is very different than I need a project. I want a specialist. I'm going to bring in a consultant and that for some reason that interaction just clicked in my brain. Oh, they could work with me if they didn't have to hire me as an employee and all of a sudden in my brain went, "Wow, that's a lot more flexibility and power because people have budgets. They don't always have budgets for the commitment of an employee, but they have budgets to get things done in their business." So if I can be somebody that helps them get things done in their business, they'll make money for me and they'll make that space for me. And so that, that just sort of shifted the way I was thinking about things.
Meg Brunson (10:18): So that was your first step into entrepreneurship, is you started consulting with other businesses?
Dana Malstaff (10:23): Kind of. Well, so I decided I was going to not, you know, I was gonna start my own business. Everybody took me out on New Year's Eve in… going into 2013 and got me drunk and I got pregnant. So that's basically, that's basically how that happened and we had been trying and we hadn't, you know, hadn't had any luck probably because I was working too much. So I, yeah, I was like, Oh, I've started my own consulting business and I'm pregnant. So obviously things were slow going. But yeah, I basically went in and did, I started out by not doing big consulting projects. I started out by doing like leadership training, um, and going into like, the Red Cross had a, you know, a group of 10 of their, you know, director level leaders and they had brought me in to do a one day workshop to talk about like facilitating ideas and how to, to narrow down what they wanted to do and then help them pull that together. So I was basically brought in to help them come to a decision collectively and then teach them how to embody that kind of brainstorming within their teams. So I did that, but then I got really pregnant…
Meg Brunson (11:30): I like that: "Really pregnant, not just kind of pregnant!"
Dana Malstaff (11:32): Really pregnant. Yeah. Like that's what happens. You get bigger and you get pregnant and really pregnant and then you know, and then it was like, oh, I don't wanna like I don't want to be a stay at home mom. And that's where the, it just started to get hard where I was like, oh, I want to, I really want to work on this. What's my brand? That's when I started to get into branding. Like, okay, I'm doing these consulting jobs, but am I… you know, I'm not really making a crap ton of money… Am I like… What's my website going to look like? You know, all, just the logistical stuff that every single person I work with that go through the same things that I went through, which is the discovery of self. You know, you're like a little kid that's discovering their personality and their voice and what they care about, what they're willing to fight for, and all of those things you discover in your business, like you grow up in your business just like your business grows up. So I just was trying to figure that out. Yeah. So for the first two years, because I had Jake and then before Jake was one, I was pregnant with Jo, so it was, it was like we popped out the babies like, let's get this over with. And it wasn't until I was pregnant with Jo that we had already moved out to California from Columbus, Ohio, but it wasn't until I was pregnant with Jo that I was given the opportunity to really brainstorm out what Boss Mom was and then wrote the book while I was half of it while I was pregnant with Jo and half right after she was born. So it wasn't until two years, two and a half years, really into quitting my job, maybe three years from quitting my job that things really started to work.
Meg Brunson (13:01): I really love your perspective on work life balance, so I'd like to talk about that, especially in those three years while you were building your business and going through pregnancy and early stages of childhood. I think as moms we can all agree that the guilt is real no matter what, whether you're a stay at home mom or a work at home mom or I work out of the house mom. There's so much guilt associated with each of those situations. Could you share a little bit about your perspective with our listeners? Like how to find balance or what balance is?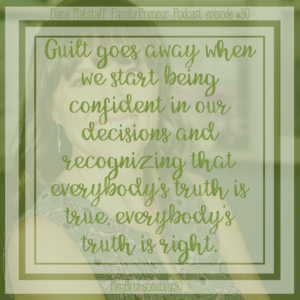 Dana Malstaff (13:34): Yeah. Well, here's the thing. The guilt is simply there because we're not confident about the decisions we're making, right? Like if you sat there and like… I was eating a piece of cake, birthday cake from my dad's birthday before we hopped on. Right. I don't feel bad about it because I consciously like ate healthy all day and then I was like, I'm going to have this piece of cake and I'll work out later and I'm – I don't feel bad about it because I thought about it. I made a decision about it, I'm confident about my decision and therefore I'm confident about my actions. We feel guilty because there's so many ways to raise a kid. There's so many things we could do. There's, you know, for every person that stays at home and quits their job and leaves their career and it's like the perfect woman who loves having 18 babies and can't get enough of, you know, kids and his brains, their kid's hair everyday. There's a mom who doesn't want to do those. It's not even that the, she can't do those. It's like she does not want. I do not want to stay home with my kids all day and for a long time we think that that makes us bad people. Right? And everybody that's listening is on some spectrum of, you know, in all different areas from how much time you want to spend with our kids to how much we want to be a kid with our kids or an adult with our kids. If we want our kids to be more like kids are more like adults. If we want to… what we want to feed them. How we want to potty train them, all of those things. We all have different views on what we think we should do and we all have different views on what we want and what makes us happy. Right? And we feel bad because we look around and other people do it differently – and I think that's where the guilt comes from is because there is no way to know what's right, right? Because even, I mean, let's be honest, diet books, kid raising books – 10 years from now, they're gonna change their mind. Everybody's gonna change her mind. Everything our parents did is now wrong. Everybody tells you don't listen to your parents, you're going to read a bunch of books and then when our kids are adults are going to be like, don't listen to your parents. Right? It's this thing. So we all feel guilty because we don't know what the right answer is. And the solution is, there is no right answer. There are definitely some best practices. Like don't hit your kids. Don't put them in closets. Feed them… you know, and I, and I love them like to like Brené Brown did the talk that says, the number one thing that makes people successful is to feel like you are worthy of love. Right? So in my opinion, if the only two things you do for your kids is teach them to feel worthy of being loved, not just to love them, but to make them feel worthy of being loved and to help them to be resilient. Then your kids can do anything and it and all the rest of the stuff is just semantics. It's just, it's just a preference of how you want to do things. And so the guilt starts to go away when you stop worrying about what's right and you start just recognizing that the happier you are. and the more connected you are to what you want. and what you're doing. and what you care about. and what you care about teaching your children, then the easier it is to not feel guilty about what you're doing every day because it's about the decision. So if you go, you know what? I have to go off to this conference and I'm going to be gone for three days. You don't feel bad about it because your kids are going to survive without you for three days. Like, they're gonna leave you when they're 18. They're going to survive without you for a lot more than three days in a row, so they're going to be okay, but we feel bad about it. But if you go: no, because this is going to fulfill me. It's going to fill my cup up. It's going to make me happy. It's going to help me come back and have tools that can give them, with the knowledge I have. Like no, I'm not going to play with you right now because mom needs to clean and if the kitchen is massively dirty or if I don't get to read this book, you know the 50 Shades of Grey book that I'm reading, Mama's not going to be in a happy place and mom's not a nice mom when she's not in a happy place. So, I think guilt goes away when we start being confident in our decisions and recognizing that everybody's truth is true, like everybody's truth is right. And looking out at other people's truths and not getting it, not understanding it and making that question whether or not what you're doing is right or wrong. It doesn't help anybody. It just causes us to feel bad about ourselves and it's an unnecessary feeling.
Meg Brunson (17:32): Wow. That was great.
Dana Malstaff (17:32): You get me on my rants. I can't help myself!
Meg Brunson (17:39): I've got nothing to follow that up with. We're done. That was just, it was amazing. And I, I feel like there's so much truth in that…
Dana Malstaff (17:47): …and that's the thing. I mean, here's one of the stories that I think really like clicked for me. It was even after I started Boss Mom and written the book and we had the community. I couldn't potty trained my son. It was a nightmare, like not even just potty trained, like he wouldn't go to the bathroom for a week at a time. It was the most traumatizing thing I've ever gone through. And my brother, his son was a year younger than Jake, was already potty trained and he sent me an ebook and said, "Oh, just follow this, this worked beautifully for us." And one of the first lines in the book said, "If you say that your kids 'just not ready,' then you're not a dedicated enough parent." And I was like, wow, I'm going to burn this book. I was like, you obviously don't live in my household like you have no idea. And I. and it dawned on me that just because she wrote a book, just because something was out there, just because my brother, who's even family, had a different situation than me, doesn't mean that they live in my home. Know who I am. Doesn't mean that my son's there son doesn't mean I'm my brothers… None of those things, like all the situ-, all the little parts that make up our lives are all different. And it dawned on me that wow, it doesn't mean that this woman is bad. It doesn't mean her book is bad and it does not mean that her book isn't helpful. It's just not helpful for me. It was super helpful for my brother, so I went online and I did what you're supposed to do, which is I went online and I said, who else has had a really crappy time, potty training their children, and a whole slew of women said, my son wasn't potty trained till five. Like we had to give suppositories every night for a month. It was horrifying, and I went, oh good. You're my people. What did YOU do to solve the problem? Right? So I went and found the people that actually understand what I'm going through, who have the most similar situations. So instead of feeling bad that what my brother did, even because he was close to me and I love him, was born out of wanting to help me, was unhelpful. Instead of getting mad about that or feeling bad or trying to make it work, I put it aside and said, I'm going to go to the people who get me and I'm going to listen to them and then we're going to solve that problem together. And, and that camaraderie is so important and that helps get the guilt away because it is that same thing like we all have different lives and we all have little things that are similar, so the same women that helped me potty train my son, are not necessarily the same women that helped me when Jo's not eating the food I want her to eat that. That might be a completely different group of people because we start to recognize that the people that are our people, are situational – right? The women… We call it your "circle of understanding" in the Confessions Of A Boss Mom book, and what we do is we go to our mom and we go, "Mom, I've got this business idea. I'm going to do this, and this, and this is, what do you think?" And your mom loves you. She wants to give you an answer, but she has no idea what you're talking about. So she gives you an answer that makes you feel bad. She feels bad because she doesn't know how to give you the right answer and everybody feels bad and you go off wondering. Should you start a business, but if you went to the people who actually understand, you go to the Boss Mom community and you say, this is my idea, it's a whole different answer and I think that's. That's the thing is when we start to recognize our circles of understanding, then we can go, wow, everybody's different and I'm not going to rely on one person or one group of people for all of my answers. I'm going to think about what I need, think about what decision I need to make, and who I need to help me make a good decision. That will also come from a place of understanding from where I'm at, and I'm going to reach out to those people and for that situation and you have to go by it situation after situation and that's, I mean it makes all the difference and that's why we've how we've structured Boss Mom, so that becomes a place where you can find those people in those different situations.
Meg Brunson (21:07): And you're referring to the Boss Mom Facebook Group, right?
Dana Malstaff (21:09): Yes. Yeah, that's our most vibrant. It's like its own ecosystem, like people hire and you know each other and work for each other and you know, become friends and all sorts of crazy stuff happens in that group.
Meg Brunson (21:21): I've met a lot of friends in that group.
Dana Malstaff (21:22): It's like a little bubble. It's like a little bubble of Boss Mom happiness.
Meg Brunson (21:27): Now, are Facebook Groups a place that you found some of your circles.
Dana Malstaff (21:30): Yeah. Yeah. So before Boss Mom was born, I would go into Facebook Groups and I would ask questions, and I would ask for help and I would connect, and the Savvy Business Owners was one of the first ones that I had connected with. I actually, Heather Crabtree who started that group, was good friends with one of my friends. They had gone to school together, and so that's how I got introduced to that group. That was really my foray into, into Facebook Groups was by a friend recommendation, which is how a lot of times it happens. Um, and then I got in and then of course I got sucked into the Facebook social media vortex and I've never seen the light ever since.
Meg Brunson (22:05): Then, you've never come back out! Well, I'm going to transition into my facebook group, so I have a facebook community and one of my community members actually posed a question that she has for you.
Dana Malstaff (22:18): Oh, I love these. Yeah, fire away.
Meg Brunson (22:19): I know that you're a big Trello user, at least right now in your business, but her question, Alina, by the way, is before you had any employees, when it was just you kind of doing everything, how did you keep track of what needed to be done? Did you use a to-do list? Was it paper? On the phone? Computer? And how did you prioritize the tasks for growing your business?
Dana Malstaff (22:40): Oh my God. It was so terribly not correct.
Meg Brunson (22:44): Even if it's bad, sometimes it's good to share because we all make mistakes. You know?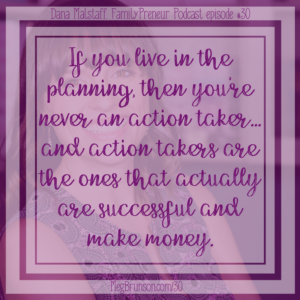 Dana Malstaff (22:49): Well, it wasn't bad, it wasn't bad because it got stuff done. Like, I've had people who tell me, Dana, I go in to use the Trello training and I'm – I don't know – I'm confused… Use paper. Like, use whatever is going to work. The problem… Like don't get yourself stuck in the project planning, just do things, do one thing, do one thing, do one thing, do one thing and all of a sudden things are done. Like if you live in the planning, you're never an action taker and only action takers are the ones that actually are successful and make money. I would literally folded pieces of paper in half. I don't know why I didn't like full sheets of paper. I liked half sheets of paper. I would fold them in half and I would write notes on the front and the back during the day and I just had a tagging system so I would: squares are things that need to be actioned or action taken. Triangles were just notes for future things to think about, you know? And so I would, I would have like a little legend that I would use, and at the end of the day I would take the 18 pieces of paper I had from like, you know, conversations and coffee chats or like watching that Webinar, or doing whatever, I take because each one would have its own sheet of paper – at the end of the day I would take all of those things and I would consolidated onto one folded sheet of paper, that told me what my priorities were and where I wanted to fit those things in. Um, and I didn't really use anything online to be honest. I use my Google Calendar to put things in Google. But before I found Trello, I had tried Asana. I tried Bootcamp, I, you know, and those work for some people. Actually the guys who created Bootcamp wrote a book called Rework, was one of my favorite books. Don't use their program though. And Yeah. And I just, I mean, here's the thing, don't stick with something that doesn't work. Just keep trying things until things work. Like I've literally gone through 18 different planners to find a system that works for me and I don't feel bad about it. I try it, and if it doesn't work – like if I'm not – I believe in like business fung shui which is like you would in your home. Like if it's not easy to put it where it's supposed to be, then that's not where it's supposed to be. Like if it doesn't naturally lend itself to go there and you're, you're, everything's messy because it just, it feels uncomfortable and unnatural to put things where you have things placed, move your house around, move things around. It's the same thing in your business. Just move stuff around. So even with Trello, when we started doing Trello, the way I used to use Trello isn't even remotely how I use it now, but the training for people starting it, we don't change it and very specifically because if I tried to teach you how I use Trello now your head would explode because it's taken me two to three years of using it to really dig into like the nitty gritty of how I'm using it. Like you guys have to go through that same journey with whatever your process is. I will say if the only thing you do is at the end of the day, take stock and what's happened that day and pull out the top three things that are actually useful for you that you're going to use, like don't just think you'll go back to notes and go back to notes, like put those notes aside, take the three main things, but little squares next to the things you actually have to take action too, and then prioritize those things. Think about everything as being part of a project. So don't just have a rogue checklist. Say, okay, I've got 10 things on this list of things I was thinking where do they all go? And how can I assign them to something bigger? And then you prioritize that project list and say, oh, I'm going to tackle one project at a time or these three projects in tandem, depending on what it is you're doing. Right? So that everyday you're reassessing and then everyday you're just figuring out what's not working and getting better. Oh, you know what, I should fold my paper this way or you know what? I'm going to test out this online tool for two weeks and see if we can get it to work. Oh, it's working. Awesome. It's not working. Okay. Let me try something else until you. Until you get something that works. I mean, it's honestly how entrepreneurs do it there. They're like little scientific explorers, out just testing variables all day long.
Meg Brunson (26:33): So you organize your tasks into projects, and then how do you tackle projects? Do you do like one project a day or do you block your days off to tackle multiple projects in each day?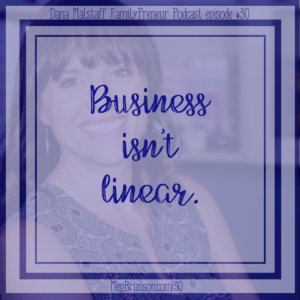 Dana Malstaff (26:43): Oh, this is also ever changing for me. It depends on what my mood is. I'm what you call a "Go West" person and this is it… This is the thing I will tell everybody, listening: get to know yourself. Get to know what you're good at, what you're bad at. Don't try and make yourself something you're not. That's the reason why people employ other people. Right? So I'm a "Go West" person, which means I know the strategy, I know why we want to do it, I know how we want to do it, I know how we're going to go west, but I don't want to pick out what wagon we're going to ride. I don't want to care what can of beans we use. I don't even need to know exactly like where the blankets came from or the, you know, like those kinds of things. I, I don't want to live in that space. And what – I will avoid living in that space. Right? So, if anybody's listening is like, oh yeah, there's those things I totally know would make me money, but I avoid doing them. Same thing. So I have an operations director and she's my project manager. So I tell her every week, this is what I want to do. I want to do this Webinar, I'm going to do this thing. Like we're going to launch the Boss Dad podcast, we're going to do Minis over here and over there. And then I literally verbally tell her, this is how it needs to be done. This is the strategy. She puts it into a project plan and she comes back to me and says, okay, you got too many projects, there's too much. Right? So before, in the beginning I used to have to try and assess that for myself. I go, okay, I can only handle one or two things and you know that by when you run out of time, she knows because I've hired her and the business is big enough now that we can manage multiple projects at six or seven things going on at once, you know, but I got a team of eight people and so we can, we can handle a lot more. In the beginning I would say two projects max, you know, like don't do more than two things at once. I, it's, I think it's silly. I think it's silly to say that we all were going to just to do one project, because I don't think that's how online business works. Like if you're building your opt in to get people on your email list, you need to also be building buzz and visibility. Visibility is always is always a part of what you have, so you have your, we call them performance metrics and outcome metrics, so in your business, your performance metrics are the things that you have control over – the amount of people you reach out to, the amount of podcasts you pitch, right? The amount of time you spend writing your book. You write a thousand words a day, or you record three episodes a day, or whatever that is, the performance metrics. You want to figure out what do you need to do in your business to help you reach your goals? How many people do you need to contact? How many things you need to record? How many blog posts you need to write, whatever that is. The outcome metrics are the things that you want. I want 10 people to join my program. I want 100,000 people to listen to my podcast. I want whatever that is, so all your performance metrics, every single week you should have performance metrics that you're looking at and going, what am I doing to actually reach the goals, the outcome goals that I want? Right? And those things you can measure. So those aren't a project, really, you know. I mean they're kind of part of bigger projects, but for the most part those are the things that just help you ensure your being visible, creating buzz, getting sales, all those things, building content in your business. So, it's not like – business isn't linear. I mean that's the thing. People tell me, Dana just telling me what I'm supposed to do tomorrow. And I'm like, well I kind of have to know a little bit more about you, to be able to give you that information.
Meg Brunson (29:46): And I get that a lot too, my wheelhouse is marketing, and people will just say to me, well what kind of ad should I run? Well, it's going to depend upon your business, what your goals are, what you've done.
Dana Malstaff (29:57): And even then, you know, you are going to test out pictures, and test out videos, and test out content. And sometimes one thing they market is going to work with the hero's journey – which is basically like the story version. And then something's going to work with a one liner, and something's going to work better with a picture and something's going to work better with the video. Yeah. I mean I'm telling you, like when I said entrepreneurial-ism, I was all about testing and tweaking. I mean that, that will never change. That's always the case. We're all about figuring out what works and you have to do stuff in order to find out what works.
Meg Brunson (30:26): Always be testing. To go back to your family for a minute. You semi-recently announced that you're going through a divorce.
Dana Malstaff (30:26): Yes.
Meg Brunson (30:34): Like with any major life changes, it can cause ripples in the way that you manage your business as well as your family, and in your group, you went live to announce it… I know you had some fear over how that would impact your community. Can you share some insight into what that transition looked like and also any tips for parent entrepreneurs who may be going through the divorce process as well?
Dana Malstaff (30:57): Yeah. Okay. So there's a couple things. One, I run a brand that is family centric, right? Although I never, I mean my husband wasn't really… he was never really a part of the brand. He's never really visible. He didn't want to be, and so it wasn't like, him and I ran a business. It was always my business, but you know, that was my hesitation is like, oh my gosh, you know, I have this business and now I'm getting separated. Like, is anybody gonna still want to follow up Boss Mom if you know. And everybody came back and they're like, you're not Boss' Wife. You're not, you know, it's a, it's a different thing. Here's the thing though, the biggest question I get is like, did my business cause the divorce? And the answer is yes, and no. This is the big warning I will give anybody whether your single, happily married, you know, young, old, whatever. A parent, not a parent, whatever it is. Having your own business is a bit of a self discovery, right? Being your own boss, making decisions about what you want, what you don't want, where you want to spend your time, how flexible you want to be. Those are big decisions and deciding who you want to hang out with, what your brand is, all that kind of stuff. It is a lot like self care. You won't think it because you're going to be exhausted and you're going to feel scared and alone and all, all the emotions, but it's a journey that you take. And anybody who owns their own business will begin to know themselves so much better because you're forced to, right? It's like creating a baby from scratch that you get to create, right? And decide what it looks like, and how it feels and all. And you have to live with it. So, that can do two things. One, it can either make you realize what you have is exactly what you want. It can make you… Well, three things… it can make you realize what you have used to be, what you wanted, but it needs some work, right? And that can be in your, your romantic life, your personal life, your parenting life, whatever that is, um, or it can make you realize that you're a different person and the things that you guys want aren't the same things. So my business absolutely caused my divorce in the sense that it helped me uncover and really embrace who I am and what I want, what I care about. And then when my husband and I came together and were like, wow, it just isn't… We're not the same anymore. You know, it was a catalyst that kind of made me a different person and, and we're not really aligned anymore. It did not cause my divorce because I work too much or those kinds of things. Like that's not what it was about. And we have a very amicable separation. I think the big thing for me is, you know, respect. Like it's important for me that my kids, we talk about, make presents for their dad. I talk about it like, oh, we miss him, you know, let's call him, let's like, I want them to know… not everybody's in this situation. Like he's a great dad. He's an awesome dad. That was never the problem. You know what I mean? Like we just didn't meet in this in this place we need to. So for anybody who's starting your own business, make sure that as you're going through the journey of starting your own business, just continually reassess, like go to counseling even if you don't need it because you are going through a journey of self discovery through a bunch of wilderness and you need to make sure that one of my favorite quotes is, "love is not looking at each other. It's looking in the same direction." Make sure that you don't look at your business and go, it's mine. I'm going to go hang out in the Boss Mom community, or your community, or anywhere else and I'm going to find my people that know me and I'm going to share all my exciting business mompreneur things with those people and leave your husband behind and then all of a sudden you wake up one morning and realize you're not looking in the same direction. You're not looking at each other. Either. Recognize that you are on that journey, whether you want to admit it or not, and be proactive about it. I honestly think that it wouldn't have… I mean we went to counseling, so I don't think it would have made the difference because I think it just, we discovered we're different people, um, and our love languages are very different and kind of exhausting for each other. But I think there's a ton of women that came back to me that were like, wow, like you made me realize a few things and I'm stepping back from all the women that I share everything with because I'm not sharing any of that with my husband. Like he wants to be involved in the things that are happening in my life and I'm not even giving him that ability because I'm sharing them with the people that quote-unquote get me, you know, we're husband wants to get you to. And your, you know, your wife wants to get you in like… we all want to connect with each other. So make sure you're giving each other that chance.
Meg Brunson (35:25): Now, is he involved in the Boss Dad brand?
Dana Malstaff (35:28): No, not at all. He's a commercial banker. He's involved in nothing entrepreneurial whatsoever. And that's a really good place for him. It makes sense for him and he's great at it. No, he's not, he's not part of the Boss Dad thing at all. Boss Dad is the fact that I uh, have a ton of dads, especially like husbands of Boss Moms that were like, where's our thing? Whereas our resource and then I was like, oh, well we'll make Boss Dad and for two years we've had the brand and the logo and everything. We sell mugs but we don't have anything. And so we're launching the podcast. It's just one season, 24 episodes, and we're going to see how it goes so we can have a resource for them. And we actually have this amazing sponsor for the whole season. It's called the Front Row Foundation and they have the Front Row Dads Retreat. Um, so they do retreats for dads and it's run by one of my good friends, Jon Vroman and we were talking about it. He's like, I need to sponsor your whole thing. And then now you have a place to to send guys and I was like, yes, all the yeses. So I'm just a… I'm just a conduit to help men and women alike.
Meg Brunson (36:31): I love that, my husband is in the stay-at-home-dad role, and now he's starting to take a similar entrepreneurial path, but I feel like he'd resonate with that group with like a Boss Dad group because he identifies as a dad, first.
Dana Malstaff (36:47): Yeah. And everybody we've asked to come onto the podcast is like, oh, that sounds like so much fun. I never get to talk about the dad part, you know, and, and how that integrates with how they're, you know, like we're having the conversation now about how are we teaching our kids to be entrepreneurs and you know, what did your childhood, how do you think that made you who you are? Those kinds of things. Like the guys are loving to answering those questions. It's too much fun.
Meg Brunson (37:08): I can imagine. I've had a handful of dads on the podcast, but it's been mostly women. I think women are drawn to family a little easier.
Dana Malstaff (37:15): Oh yeah. Did you see that there's a video online where a woman, she does kind of funny videos. Yeah. And She, she asked her dad like, so how do you manage work life balance? And they were like, I don't understand the question. It's like I had never thought about that. But you're so right. And what's funny too is we live in our bubbles, like people tell me all the time, Dana, you live in your bubble. And when I look at it, most of my books that I read are written by women and then I'll, I'll talk to my guy friends and I'm like, when's the last time you read a book that was written by a woman? And there'll be like, hm, interesting. And it's interesting. We really like naturally just gravitate towards who we are. I mean, it makes sense. We naturally just gravitate towards the thing that looks and feels most like us. And it's just funny. So I love the idea too though, that you know, we're not in it alone. Like it took more than you to make your baby, in most cases. And you know, and I don't think, I think there's a lot of us talking about women and how powerful and wonderful we are and, men are the same, men are just as awesome. They're just in different ways and you know, the whole idea of like happy wife, happy life. I don't like that phrase. You know, I think if you want a happy life and it takes everybody trying to make each other happy, I think it takes everybody giving and connecting and compromising and communicating and continually growing together to make it happy. So the second we believe that we did all this work and that it's, you know, everybody should worship us for how amazing and multitasking we are. I think we take away the beauty in the relationships that we could have with people and how much men love us and want to care with us and be a part of what we're doing. And there's some amazing guys out there like your, your husband staying at home while you're out being an entrepreneur and doing… you know what I mean? Like, there's some amazing guys out there and I just want to make sure we're not… I'm not creating the Boss Mom bubble, that's an empire that implies that men are not important, because I think everybody's important – as important as they'll let themselves be and as important as they're willing to contribute into society. I think all of those people should be recognized.
Meg Brunson (39:12): I can't wait for the podcast to launch and to see how it all plays out.
Dana Malstaff (39:15): Oh yeah. The interview so far I've been super good, so I'm pumped.
Meg Brunson (39:18): Awesome. So since you mentioned kids, I know your kids are still kind of young, but are they involved in your business at all or have they exhibited any entrepreneurial qualities?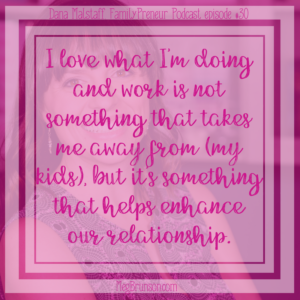 Dana Malstaff (39:28): Yeah. Yeah. So they're relatively young. Three and five, but yes, we do videos and stuff. Nothing that goes out into public really. But um, they'll record things. They'll help do reports and you know, write letters, thank you letters and things that are jibberish and stuff like that. Part of the main thing that I'm teaching them right now is creativity and problem solving. That's the main skill, they see me work though. And I want them to, so I have reading time and they can choose to read or not read, you know, when I'm around, but I'm not going to read to you mommy's reading and oh yep, Mommy's got to do work. And Jake even, my son even knows, you know, he goes, okay mom, I'm going off to work. He goes, "Mom, I'm moving to Disneyland." This is the other day, so I said, "Oh, okay." And I said, you're going to move there. And he goes, "Yep, I'm going to live in Disneyland." And he walks over to the stairway and I was like, "Where are you?" And he's like, "I'm at Disneyland." And I was like, okay. And I said, well, "What are you going to do?" He's like, "I'm going to ride all the rides." I was like, well, "Jake, if you're going to live there, you're going to have to make money. So what do we need to do?" And he's like, "I need to have a job." I was like, "Jobs do help you make money. What would you like to do? Because we should always try to find work that we love." And he's like, "Hmm, you know what? I love hot dogs. I think I'll make hot dogs for everybody." And I was like, okay, "What are we going to charge for these hot dogs?" And he was like "$1.68." And I was like, "Okay, that's a good idea. How are we going to…" And we just walked down the line of, you know, in fun, play mode, but we walked down the line of what is work, how do we find things that we love, like what could we create, how do we solve problems? And so I approach play in a creative entrepreneurial problem solving way, and I think that's a good first step for me and letting them see me work and let them – remind them that I love what I'm doing and work is not something that takes me away from them, but it's something that helps enhance our relationship, and my happiness, and their happiness and stuff like that. So I'm sure that we'll alter and change as they get older, but that's what we do for now.
Meg Brunson (41:15): I love it. I try to keep an open door policy. I mean I closed the door when I'm recording podcasts and things like that because we don't want, we don't want that in the background. Like that gentleman who was doing the news broadcast…
Dana Malstaff (41:15): I know the poor guy.
Meg Brunson (41:27): We don't want that, but um, I try to keep the door open and let the kids get involved. And my oldest daughter is 10 and she actually just accompanied me on her first marketing conference. She went with me to a three day marketing conference in LA and sat through all three days. All the presentations. I still have some of the notes she took.
Dana Malstaff (41:45): Oh my gosh, that's adorable. I love it.
Meg Brunson (41:47): And I mean she did some doodling, and she ate a lot of snacks…
Dana Malstaff (41:50): That sounds like how I conference.
Meg Brunson (41:53):  …but I was so proud of her for not only wanting to go – but showing up.
Dana Malstaff (41:58): Oh, 100%. My Real Dad, he in the summers, people would go off to camp and I would go stay with my dad for the summer and he made me a desk that had my name airbrushed on the front, it was purple, very Boss Mommy and I was his office manager at like 10 years old, and I would carry around a clip and walk behind him and do estimates, and would help like take phone calls, and file bills, and stuff like that and some of my favorite memories are being there. Like you think you're imposing upon your kids to have them help you do things. There is nothing your kids want more… now when they're teenagers might be a different thing… but there's nothing your kids want more than to be a part of what you're doing.
Meg Brunson (41:58): Yeah. They love it.
Dana Malstaff (42:35): Let them be a part of it and the more you shut them out from cooking and cleaning and doing all the things that you don't want to do, you know, even and along with the things you do want to do, the more that you shut them out, the harder it is and more frustrated you get because they, you know, act out… let them be involved. That's what they want. They just want to be a part of your life. So let them be a part of all of your life.
Meg Brunson (42:54): In 2017, you published a podcast for storytellers called Make Me Care with your stepfather.
Dana Malstaff (42:54): I did.
Meg Brunson (43:02): Can you share some information about how that podcast came to be? I'd really love to hear how it kinda came full circle.
Dana Malstaff (43:07): Yeah. So you know, my dad's like my hero. I love it. And he's got such good stories. He writes books and everything and was in the midst of writing a book at the time. And so I told him, I was like, we need to start a podcast. Like this would be so much fun. And in a way it was a, something for me to help connect us, but also like, oh, I'm going to pull them into this online world so he has more ability to market himself and all these kinds of things and need to get them into blogging. Was not so easy by the way, to get your parents to do the same. And we had a lot of fun. It's just brainstorming the title, and coming up with the cover, and doing all those things. It was a lot of fun and when we started, and it was a little bit challenging to do, to get us together even though you'd think it would be easy, but it was not. It was a total pain in the butt. But his dad passed away. So my step-grandpa passed away like four episodes in and we were gonna do more. And then it kinda got pushed out. And then my aunt got cancer and came to live with us. And then we had the retreat and then we moved houses. And then my husband and I got separated and just, you know, we said, oh, we're going to go back to, are going to go back to it. We both just said, you know what, let's just hang out, and not worry about the podcast. So maybe it'll come back at some point. But I love it. I love that it was a project we did together. I love that we tested it out and the conversations were great. Like if we wanted to do something again or I just wanted to bring him on the Boss Dad or Boss Mom podcast sometime, I could. He got to see a little bit of my world. And so it was a blast. I would tell people like, just try things and sometimes they work, sometimes they don't.
Meg Brunson (44:44): And that's what I loved was the whole concept that he kind of introduced entrepreneurship to you as a kid.
Dana Malstaff (44:48): Yes.
Meg Brunson (44:49): And then you developed in your own way and then, brought it full circle by bringing him into your version of entrepreneurship.
Dana Malstaff (44:58): Yes. And, they even say they are so proud of me and sometimes they have no idea what I'm doing.
Meg Brunson (45:03): I get the same thing for my family. So you've given us a ton of amazing advice and tidbits. I'm just wondering if you have your number one piece of advice for parent entrepreneurs, if there's anything you haven't shared?
Dana Malstaff (45:16): Oh goodness. I mean, the biggest thing is: you're not an island. Doing all the things is not a badge worthy. Hustling until you have big bags under your eyes and, having "busy" be the number one word you use, is not helpful to anybody. Get support and help, give yourself space. Find someone to give you permission to do less because we have so many ideas and we're going to be doing 18 billion things all at once. I find that every year in my business, I end up cutting things, and saying "No" to more, so that I can say "Yes" to the really great things. And test things out and stop doing things that don't work, and do more of the things that do. But you can't do that if you're by yourself, and you can't do it if you're trying to do everything, and so find the community that fits with you, like find an accountability partner or coach, you know, find a mastermind or something like that, take some courses, get the support and the permission you need to do what really actually matters and then continually change it until it actually… you wake up every morning and you're excited to get up and do everything you need to do.
Meg Brunson (46:21): Great. Thank you so much. And I know we're, we're kind of at the end of the show, so I just want to wrap things up. Where can our listeners learn more about you?
Dana Malstaff (46:34): Yeah. So Boss-Mom.com is the easiest place, that'll lead you to our Facebook Group and our Podcast and free resources and events and… all the awesome sauce stuff.
Meg Brunson (46:38): Thank you so much Dana. This has been a real treat and I cannot wait to share this with our listeners.
Dana Malstaff (46:43): Yeah, this has been a blast. Thanks for having me.
---
Meet Dana Malstaff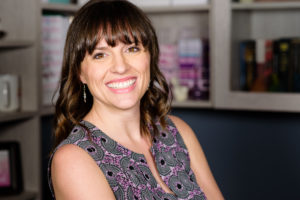 Dana Malstaff is the CEO and Founder of Boss Mom. She is a mother, author, speaker, business strategist, podcaster, blind spot reducer, and movement maker. She launched the Boss Mom brand with her first book Boss Mom: The Ultimate Guide to Raising a Business & Nurturing Your Family Like a Pro and quickly grew to a six-figure business within a year.
Now she has over 10,000 students in various courses helps women all over the world raise their businesses and babies at the same time. She believes that pursuing our passions and building our dreams while including our children in the process, is the best way to build thriving businesses and families, and ultimately we need to show our children that doing what we love can be financially viable.
Find Dana
---
Last Show
We met Dr. Ashie Bhandiwad, the founder of StemChef. She holds a PhD in Engineering from Dartmouth, Master in Biotechnology from Germany and Bachelors in Engineering from India. Previously she had dedicated a decade of her life working on renewable energy. Ashie then took it upon herself to reimagine education by launching StemChef for the benefit of the future generations.
Next Show
We'll welcome Becky Mollenkamp. She is the creator of the Own it, Crush it movement. With nearly 15 years of experience as a business owner, she helps women navigate the mindset and tactical struggles of self-employment. Through her courses, exclusive membership community, and group program, Becky has mentored hundreds of women to own and crush their boss status
---
---
About The Host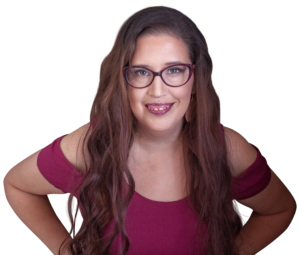 Meg Brunson has been marketing to moms for over 7 years. She is the founder and CEO of EIEIO Marketing, a digital marketing agency focused on Facebook Marketing for family-focused businesses.
Meg is also a former Facebook employee with a passion for helping bootstrapped businesses figure out Facebook so that they can promote like the pros! She left the 9-5 in 2017, so that she could be the mom she wanted to be to her 4 young daughters.
After helping her daughter launch her first business, Storytime With Kiki, at the age of 10, Meg began hosting the FamilyPreneur Podcast: an interview-style podcast for parent entrepreneurs, raising entrepreneurial children.