With nearly 15 years of experience as a business owner, she helps women navigate the mindset and tactical struggles of self-employment. Through her courses, exclusive membership community, and group program, she has mentored hundreds of women to own and crush their boss status. Today we'll chat with the creator of the Own it, Crush it movement, Becky Mollenkamp!

Sponsorship
Today's episode is brought to you by EIEIO Marketing. Facebook Advertising does not have to be stressful and overwhelming, not when you have a former Facebook employee in your corner! If your business is looking for a reputable agency to manage your Facebook Ads for you, visit EIEIOMarketing.com and reach out for a free consultation today! When you think about your Facebook Marketing strategy, always remember EIEIO – where their name isn't just cute, it represents the ideal Facebook strategy: Engage, Interact, Educate, Influence, & Optimize!

The Transcript
Meg Brunson: Hi Becky. Thank you for joining us today.
Becky Mollenkamp:  Thanks for having me.
Meg Brunson: So I'd love to go back and start with your childhood. Could you talk a little bit about your parents and how they influenced your decision to pursue entrepreneurship?
Becky Mollenkamp: Yeah. It's funny you asked this because frankly I don't think I thought about the fact that my parents influenced me to be an entrepreneur. It wouldn't have ever really even occurred to me, but upon reflection I can see how that might've been the case because my mom has always been incredibly entrepreneurial. I just didn't really even see it that way. I didn't think about that, but she started… well, she actually stayed home for awhile with us when we were very little and then she started a natural foods business, like a Whole Foods store in the 1980's, the very early 1980's. She was very much on the leading edge of that whole thing of sort of organics and everything. She's always been a bit of a hippie and so I got to work the counter at her store and stuff when I was really little, like eight or nine years old. And I watched her pivot. We were in a super small town that was not ready for a Whole Foods store. She was definitely way ahead of her time and definitely for the market she was in. So I saw when that business wasn't doing as well as she had hoped that she pivoted and she actually started selling like nursing uniforms because there was more of a market for that. And so it's funny to me that you asked this question and I love it because it really got me thinking about it. It's like I did see my mom not only start a business but then pivot a business and then she got divorced, like we had to move because my dad's job and then she got more of a traditional employment. But when they got divorced she had to move again. And had to come up with something and so she started another business and she was doing interior decorating, which is something she actually had a degree in and loved and did that for quite a long time. And so I got to see her kind of reinvent herself and then eventually she went back to corporate life because of, I guess the "security" even though I don't really believe there's a lot of security in that world either. So she finished her career out that way. But now too, in retirement she's once again talking about like maybe I could do some online courses or even teach some things that way. So my dad was always very much traditional employment and my parents both always really preached to me, you know, traditional education and never really talked about me starting my own business. But then when I ended up going out on my own and starting my own business, it wasn't like I had parents that were like, oh no, you can't do that. I mean, they knew it was something that could work. My mom never managed to have something that clicked the way I think she would have loved for it to, but she also knew that it is something that can work and I did see that as a kid and I guess it did influence me more than I realized.
Meg Brunson: I love that. I love that you had that same epiphany moment because I feel like I did the same thing. Like I saw it in my kids, like how I was influencing them and then I thought back and realized that my dad had an impact on me and even back then I don't think he ever would have said, "I'm an entrepreneur." Do you know what I mean?
Becky Mollenkamp: Oh, for sure. I don't think my mom probably would have thought of thought of it in those terms. I think it was more like, "I just need to make money for my family and I love doing these things and there aren't a lot of jobs in this community and I'll just start something." And it's funny because when I first struck out on my own, I didn't think of myself as an entrepreneur or even a business owner. I considered myself a freelancer. I didn't think of things in those terms until I've gotten more into what I'm doing now and I think it's funny because I don't think my mom would have either, which probably also influenced my inability to express myself as a business owner.
Meg Brunson: So it is interesting how much those things influenced you without even realizing it until later. And I liked how you talked about those feelings of security. It's funny how people feel secure at a corporate job, but I also feel like in that corporate job you really have no control over anything. Like you don't really have control over your income or how long you stay employed. I mean both of my mom and my stepfather lost their jobs, of decades, the same year. One outsourced, and one closed their building. It's a false sense of security.
Becky Mollenkamp: This is a narrative that our culture teaches us that is completely untrue, but we buy into it as a culture it's the this idea of the American Dream and if you pursue this career and you can be anything, whatever. And I think there's truth to the idea of an American Dream, but I don't think it's about necessarily working for someone else, but we are given this idea that if we go get these nine to fives and we toil away, we'll have this great career, we're going to be able to retire and whatever. And the truth is most companies don't have pensions anymore. Most companies are constantly changing and outsourcing and everything. You just don't know how long you'll have a job. There's no guarantees. We like to buy into this idea of an entrepreneurialism is still sort of treated as like, like we're outliers and it's something that sort of seen as outside the norm. And that's scary. There's this narrative that we're taught that, you know, creating your own business, all of these things is there's lots of risk and it's scary and all of that's true. But getting a nine to five is also risky and scary because you don't know if you will have a job tomorrow. I mean, I've worked for a major corporation and I remember layoffs and they're not fun and they come out of nowhere. And the people who were laid off, were not ready for it, didn't expect it. I mean there were people that were lifers that lost their jobs. They thought they would retire from that company. So yeah I no longer buy into this story that we've been told that a nine to five is the safe bet.
Meg Brunson: And it was through recording this podcast that I had that same change in perspective about the American dream, because I think I saw it the way that you just referred to it as you can go to college, you can get education, you can pursue whatever career that you can be anything you want to be. And I was interviewing another guest and she was from another country and she said they moved here to get the American Dream and that was to be able to build their own business. And I had never thought of it that way, but I think you're right; the True "American Dream" is to be entrepreneurial and independent and to get that resilience.
Becky Mollenkamp: And I feel like anytime that the sort of popular narrative talks about entrepreneurialism or as part of the American Dream talks about entrepreneurs, it's the idea of creating small businesses that are the backbone of the US, but that employees, all of these people, when we talk about self employment, it's always with the idea that you must create some big business, like your aim has to be Apple and that you need to be employing a bunch of people and it's always in a more traditional idea of what business looks like. But the truth is that's not the, that's not what's normal. Now that's not traditional anymore. I mean that's the way it used to be, but that's not the way it is. Now. Business looks different and even big companies look very different. We are any outsourcing environment where, you know, it's, what do they call it, like the remote worker. That's what's common now. The idea of having a desk job in a cubicle at a big company. That's what's actually becoming the outlier that's changing. And so the idea of the American Dream I still think is there, but like we need to talk about and frame it differently and say that it can be about just being a contractor like contracting for other people and that's okay. And that's part of what building your own businesses. But I think we haven't always considered those people, business owners. They're just like, I was just a freelancer, just a contractor. But you're still running a business.
Meg Brunson: Right. So tell me a little bit about your business, how and why you started it and what exactly you offer.
Becky Mollenkamp: Well, what I offer now is different than how and why I started it, but I started my business in 2005, because I wanted to work in my pajamas. That's my Why. And my Why hasn't changed much, I am in yoga pants as we do this interview now. I saw so many people where I was working. I wasn't a writer, I've always been a writer and I was working for one of the largest magazines in the country. And all of these people that I worked with were quitting and working from home in their pajamas and doing the same work, but getting to do it on their own schedules and in the way they wanted. And I was like, I want that. So I quit in a time when the environment was or the economy was amazing and I had a few really amazing years of big growth and six figure years and all that good stuff. And then the economy tanked, and I got divorced, and my brother died, and had a whole bunch of things happened at once and everything changed my business and I had to make some shifts. So I've pivoted a few times in my business to kind of a deal with varying circumstances. Whether it was life, circumstances, the economy, whatever, to change what I'm doing. But the fundamental reason for why I started my business really hasn't changed, which is freedom. I want to be able to work the way I want to work and not in some prescribed manner that some corporate, you know, head honcho tells me is the way I should work.
Meg Brunson: I love that, that you wanted to work in your pajamas.
Becky Mollenkamp: That's really the nuts and bolts of it. Like if I can be in my yoga pants all day long, then it's a good day.
Meg Brunson: So how has having a child changed your business? I know that your kiddos is two now, correct?
Becky Mollenkamp: Yep. He's just turning to and it's changed everything. So my first, my first pivot… I'm just freelance writing so I started as just what I said – just a freelance writer. I was basically working for the same company I always had, but just as a contractor then people stopped buying magazines because this whole "Internet thing" took off and there were bloggers and everything was different. So I started writing, writing for corporate clients and I still do some of that more as an agency model, but I still do some of the client work for these bigger corporate clients. But then my son came along and that really changed everything again and lead to sort of the next pivot where I'm at now in my business. So about two years ago I got pregnant and suddenly I had these weird maternal feelings that I had never had before and I had my son very late in my life. I was what they deemed a "geriatric mom," which is always pleasant to hear when you're 40 and told your geriatric. But so I had my son later in life and suddenly I was like, I really want to do something with more meaning. I had really been burnt. I was really burned out on writing for other people and some of the subject matter I was writing about and I just knew I wanted to do something that I felt had some deeper meaning and I'd always wanted to be a teacher, but I didn't really know what that would look like. So I started doing some pro bono work with coaching some other women entrepreneurs and really loved it. And so in the last two years I've been really shifting my business to doing more online, educating through courses… community. I have a growing Facebook community that also has a membership component. And then also doing some retreats, in person retreats, those are fun and then one-on-one work with clients as well and so I'm really loving this new shift that really came about because my son sort of changed everything for me where I thought, what am I doing with my time? If I'm going to be away from him, I want it to have more meaning to me than just dollars and cents. Those things are important, my income matters in my household, but I also need to have something that means something more to me. It needs to feel worth being away from him and so doing something that I feel like I'm really giving back and helping people in that way more than not to discount writing because I think that definitely can be very valuable and helpful. I was just at a place where I didn't feel like it had that meeting for me and now with what I'm doing with really helping women get competence and clarity in what they're doing and in their businesses and watching them have all of these light bulb moments where they're like, oh, I can do this or I could do that. Like boy, that's what really makes it worth it to me to spend time away from my son.
Meg Brunson: So is there something that all of your tribe, all of your clients have in common? Or is it, are they, do they come from all walks of life?
Becky Mollenkamp: They definitely come from all walks of life. I work with women, so other than the fact that we ruled out half the population… they all are, they come from all walks of life. Most certainly. I think what unites all of us is sort of, we're kind of tired of the hype and the false hope and stuff that a lot of people are out there preaching with all of the six figure launch talk and the, you know, five figure months and all of these things that can happen. But this idea that, hey, do this one thing and you're gonna grow your email list by 100 percent tomorrow. I think my tribe, my people that I've attracted or just sort of sick of that, and they're really looking for some real talk, some real business basics, some common sense. And that's where I really feel like I step in, I just want, I definitely hear from people, they tell me all the time, like we think you get it and you're a lot like us and we believe you and I don't think you're just trying to sell me something because honestly I'm not even that good at selling things so people know that I'm, that's just not me. I'm really all about authenticity. And so that's what seems to unite my people. It's just that they are people who are really kind of sick of all of that and maybe aren't the "cool kids," you know, they don't feel like they're the cool 20-something millennial that has the huge insta following and their life isn't necessarily insta worthy. That seems to be my people. And I think that's kind of because that's who I am.
Meg Brunson: And I totally resonate with that too. It's getting away from the Click Bait, like we see those ads in our news feeds. For those of us who are entrepreneurs, you probably get a lot of the same ads, you know, people targeting you for, for marketing. And as a marketer, I'm hypersensitive to those claims as well. So I love that. I love the authenticity.
Becky Mollenkamp: Thanks, it's really important to me. I mean that's one of my core values is being authentic. I think. I mean, I know now that word is really like kind of trendy and almost feels like click bait now, which is frustrating, but it's really true. I mean it's just, that's so important to me. I spent a lot of my life. I'm being everything I thought I should be and doing everything I thought I was supposed to do and when I finally was able to in my thirties, like make those changes in my life which included getting divorced and in pivoting in my business and you know, all of the things I've done when I finally was able to step into no, this is who I am and this is what I want for my life and I don't have to apologize for it and I don't have to do things I should do. I'm going to do the things I want to do. Once I made that change, everything like really fall into place and felt right and so now I just can't go back and so I just am so completely opposed to anything that is not 100 percent authentic to me because I just don't want to live that way again and I feel like people get that from me.
Meg Brunson: So how do you balance things with your son? How do you maintain that family work balance?
Becky Mollenkamp: Yeah, and I liked that you said before we came on your episode, if balance isn't the right word, it's okay and it's not balanced. It's definitely not a word that I understand or resonate with because I just do not feel it. I call it juggling and I feel like I'm basically trying to juggle six plates when I've barely learned how to juggle three. Like I'm a novice juggler trying to do very advanced juggling skills. That's kind of how I feel at this point… and so basically it's like, you know, we have, there's the friend plate, there's the kid plate, there's the marriage plate, there's the work plate, there's a like being a good daughter plate, you know, there's all these different things and I feel like anytime I'm able to maybe keep two or three of them in the and the rest are falling on the ground and I just have to kind of be okay with that and just know that I can go back to those others later… and I have to prioritize which ones are most important. Obviously keeping my son alive and happy and healthy and fed and you know, all of those, that's, that has to be number one because he can't do those things on his own. So that has to happen. So that's my number one priority. And then, you know, I had to, in order to do that I have to make money. So work usually becomes my second priority, which I sometimes have a lot of guilt about because I really feel like my husband should probably, the marriage piece should be higher, but right now my, my income matters so much that that almost has to be a priority because it's the thing that helps keep my son fed and alive and healthy. And so then obviously I don't want this marriage to not work. I love my husband very much. So I want this, my marriage I'm in now to be the one that sticks in. So that's my next priority. And those are about the only three priorities I seem to be able to manage and basically a really only do two well – my poor husband. And so it's really merit. I mean it's really work and my kid and then sometimes my husband and that's about it. I have zero social life, which is sad to admit, but just the way it is right now. And sometimes I feel bad about it, but then sometimes I think, you know, my kids two and in a few years he'll be in school and then a few years after that I know in a, in nothing, he'll be gone from my house and then I'll be like, oh, I have time for a social life, but I really wish I had my kids so I'm trying to enjoy him. We try to do some things with friends occasionally. But mostly I only do two things pretty well at any given moment. And that's kind of how it has to be for now.
Meg Brunson: I love how you presented that and how you just own it and you're just, it's just the way it is. It's good. Now, what does your husband do?
Becky Mollenkamp: My husband's a teacher. He teaches high school English, which is a very noble profession and very good. And so, you know, he endures a lot. I feel bad for them a lot because I'm like, oh, I should be giving him more of that time and attention. But he knows. I mean he's in the same boat. We were both freaking tired all the time, you know, it's hard with the little one, so I don't know how you do it with four. I can barely just keep my head above water with the one. It's just a lot. But I know it's a season of life and it's going to change and the priorities will shift it. It'll be okay. And I'm saying this with so much what sounds like lots of confidence and I'm owning it, but believe me, there are plenty of days where I'm not owning it and I'm feeling all the guilt and like, oh, I'll never have friends again. I'm presenting it as if I'm really managing it well, but that's, that's how I manage it. Doesn't mean I always do a good job of it.
Meg Brunson: So do you have tips for those days? Like what gets you through those days where you feel super guilty and you're judging yourself?
Becky Mollenkamp: My tip for everything, because I think you wanted to ask me like a final tip. I'm, this is my tip. This is the only tip I have and that is community. Community is so important to me. So I have a community that I build that I've built called Own It, Crush It, that has a Facebook group. I have a private community within that to have paid membership. I'm all about community but also finding my own community outside of that, because in that community I feel like I need to step up more as somebody who is a leader and helping people, but even those of us that do coaching or helping in some way, we need help too. So you need to find that community for yourself where you can get that. So I have a Mastermind group that's really important to me. I'm also part of another really small private Facebook group that's for women who have kids and run businesses. And so like finding those spaces where you can go and get that support when you need it or you can basically hear me too. You know, I love to be able to go into my Mastermind. We meet on Slack, we also have in person meetings weekly, but we have Slack conversations all the time and I just go in and we'll say like, today's hard or like, I don't really enjoy parenting right now, or my business feels like it's falling apart. Why? You know, why can't I do it all? And having other people who I know are in a similar place, we all have young kids, we all have businesses that can say to me, yeah, me too. That sucks. That's hard. You're trying, you're doing your best. Just hearing it from somebody other than your spouse who loves you but doesn't always get it, is really valuable. So if you don't, if you're trying to do this in isolation, you're making it so much harder on yourself than it needs to be. Go find a community wherever that is that feels right to you.
Meg Brunson: Now, where did you connect with your Mastermind?
Becky Mollenkamp: So I've had two actually, I guess three, but this is my third Mastermind. The first one I created three years ago after learning about Masterminds and it was an in person when we met every week here in town and it was great. It ran for like two and a half years, which is really long time for a Mastermind groups, especially in person weekly, but it kind of ran its course. And so then I needed to start another one. And uh, it was just people that I knew virtually, you know, people I knew from Facebook groups that I had, I wasn't even that deeply familiar with them. I knew enough about them that I knew that their spirit and attitude was similar to mine and that we were in similar stages in our business and that was really all that was important to me because I wanted to have people that would get it. So they are in a similar place in their business, not someone who's maybe brand new because they have. And not that there's anything wrong with that because they have different issues going on than I do. So I want people who are in a similar stage and that had young kids. Most important was that I knew were going to be willing to be vulnerable and authentic and all of those things that matter to me. So I just invited them and said, would you do this thing. And they said yes.
Meg Brunson: That's great. What tools do you use that are helpful to you? Whether that's something like paper and pen, like are you a paper and pen person? Do you have digital tools that help you keep things organized or what are some of the tools that you're using in your business or in your life that really make things easier?
Becky Mollenkamp: I use Acuity for calendaring. I was resistant to that for a really long time because I thought why am I going to spend money on a calendar when I have iCalendar and I can just email back and forth with people. So I was resistant forever and now I'm like, why in the world did I not spend that 10 or 15 bucks a month? Because when you break down your hourly salary or hourly pay rate, what you charge people, compare it to about $10 or $15, whatever a calendaring system costs, because it's such a fraction of the amount of time, there is no way that I could do the back and forth emailing with people that it takes to schedule appointments and have it not justify that money. I mean, it's just ridiculous. My hourly rate was like when I really finally sat down and did it, I was like, this is dumb. And now I love it. So I use Acuity, I use Slack where I have my team. So my VA and I communicate there. I have channel for my Mastermind, I have one for my memberships, I love Slack for the communications portal piece. I use Zoom, like we're recording this on Zoom. I use Zoom for my own podcast. I use zoom for all the meetings that I hold for my membership and recordings that I do for them. And I use Podio to host my courses, which I really love. I just switched not long ago from Thinkific to Podio and I couldn't be happier. Their customer service is beyond top notch is amazing. Um, and I use Google Drive. That's the other big tool that I use because that way I can access any of my files, anything from my phone or if I don't have my laptop and I'm in another country, if I know I can get to a computer, I'm gonna be able to have access to all of my information and I love that knowing that. So I try to put. I actually recently finally hit the limit on Google Drive for storage space, which I thought I never would. They give you a lot for free. I finally started paying, but it's worth every penny to me because I had that peace of mind, one of knowing that my stuff is backed up somewhere in the cloud and also that I can access it at anytime.
Meg Brunson: I love how you broke down the value of Acuity because I use the same thing and there's many other, you know, there's many scheduling tools at different price points with different features. So that is what it is, but I love how you broke it down. I never really thought about it that way. About an hourly rate. And I think I'm going to change how I, how I really look at a lot of these tools. Some of them are free, but some of them have a cost associated with them and I've never looked at it as what chunk of my hourly rate is that.
Becky Mollenkamp: Well, the same thing with, with Podio or with any whatever you use for courses. When I first started thinking about doing online courses, I was like, oh maybe I can bootstrap this and I could like do the videos and put them into a private Youtube channel and then like get people to watch and then I could find them, you know, do a PayPal link for all this stuff. And then I sat there and thought, wait a minute, how much time am I going to be spending doing all of this? What's my hourly rate? Is this worth it when I could just pay somebody else to do it and then it's all seamless and done. I mean, that's how I try to analyze because it's hard when we're spending money, when you're feeling like, oh gosh, how much time do I have coming in? And I'm spending all this money and it's easy to look at tools is just an expense and I get that, but if you can start to reframe it and see that it's actually saving you money because it's saving you your hourly rate. If it can save you time and you could use that same time to find clients or service clients and make money, then it's worth every penny. It's just sometimes when you're only looking at it as like, oh, there's $50 a out the door and if your hourly rate's $100, let's say, or even if it's $50, that's one hour or half an hour of your time, if that. If you can't do whatever your served, that service does and that amount of time than it's worth paying for.
Meg Brunson: Wow, that's great. I feel like that's going to change how I look at things, like I didn't even think that was going to come out of this interview, so I appreciate that because that was great. I was just talking about Acuity with, with somebody else. One of the reasons I hesitated to go there was I felt like it was impersonal where it was like, Oh, do you want to have a phone call with me? Well, here's my link. But like you said, it's just so much easier because sometimes now even I'll think, oh, it'll be easier for me to just schedule this one call. You know, like I, I'm already talking to this person. I'll just schedule it and it turns into an hour of a nightmare back and forth.
Becky Mollenkamp: I don't do it anymore. I send my link, here's my link, and you know, I can totally relate to that because I did at one point in the beginning. Now that you say it, I kind of remember having those feelings too of like, oh, but then people are going to be thinking I'm rude if I just send them a link and tell them to go do it themselves. But here's the truth, and I just had this conversation with somebody else today talking about similar stuff and automation and everyone else is in the same place you are. If we think about it, we are all busy. We all have so much going on. Frankly, they don't want the back and forth either. You know? They're probably sitting there going, "God, I wish this was easier. This is becoming a hassle for me to do this thing." Most people will actually appreciate, you're doing them a service by saying here, and I always try to frame it this way too. I say, here, here's a link. You can go schedule into a time that suits your calendar. Like I tried to make it about them and say, find a time that suits your calendar. I want this to work for you because now instead of having to go back and forth where they could just quickly say, oh there, there's a spot that fits on my calendar and I appreciate it when people have calendaring links, if I'm trying to book with somebody because the back and forth can take forever. One time somebody was kind of doing this with me going back and forth, and by the time I replied, she's like, oh, somebody else took that time," and I'm like, "Well, what a pain!" If I could've just had a link, I would have just been able to get in and do it, you know, so I try to refrain those things in your head that it's not, you're actually doing them a service and helping them.
Meg Brunson: Right. That totally makes sense. And I. One of the other things that I believe you use a, you have a VA, right? Or do you have a team?
Becky Mollenkamp: I have a VA.  I have had an OBM, I put a little pause on that because it was a pretty expensive contract, but I'm doing everything in my power to get back to the point of having her again because I'm now realizing how much I need her in my life.
Meg Brunson: So before we get too far OBM, I know what it is, but I can't remember what it stands for.
Becky Mollenkamp: Online business manager.
Meg Brunson: Thank you. I can't be the only one.
Becky Mollenkamp: No, no, I'm sure. So VA is a virtual assistant, OBM is online business managers. The OBM I sort of say it this way: the VA does the tasks and the OBM sort of helps wIth the strategy. So like my OBM kinda came in and said, here's how we can make your business more efficient, more productive, here's all the systems you should put in place, this is what you need to do to really get business running smoothly. And then we worked together to come up wIth what those tasks would be and then she's in charge of getting the tasks assigned out to the VA and making sure things get done. It allows me to just do the things that are in my zone of genius, which is creating content and running my community. Those are the only two things I really want to do and everything else I want to have someone else managing because I don't have time as a mom, but even if you're not a mom, I mean we just. It's hard to do everything in your business, especially if you're trying to scale up and grow. Growing means that you're going to have to get rid of some stuff. You have to outsource. You have to automate. And so having that person in between meant I didn't even have to now tell my VA what to do. The OBM could do all of that, I could just brain dump onto my OBM and then she would make sure things got done.
Meg Brunson: And did that work for you? Like did you see growth?
Becky Mollenkamp: I loved it. But I probably jumped the gun a little sooner than I should have financially on doing it. So I, because I had an amazing month and was like I'm going to start spending money. I think I need to wait till I have a few more consistent big months like that before I really start to spend because what they do is higher level work and they should be compensated for that. And so it's not that she was outrageously priced. I just started spending that kind of money before I was really ready, but I absolutely saw the value and I cannot wait to get her back onto my team because it helped me know what I was supposed to do everyday. You know, it's hard as a business owner I feel like I'm supposed to be like, I supposed to know what I doing. Like I should because I'm the boss, I should be the one, like I should be able to direct myself and know everything I'm getting done, but frankly, sometimes I need someone to help me with direction because it's really easy to get distracted. There's the shiny penny syndrome, squirrels, whatever you call it. There's so many things that we see and I want to do them all, and I have lots of ideas and you know, I'm creative. And so having somebody say, "No, these are the things you need to work on today," really helped. It was hard for me at first because it was kind of like, I should do this for myself. I'm not a good boss or business owner. If I can't, I don't. It doesn't matter. It helps. And so I am totally ready to have that person come back and do that for me again.
Meg Brunson: Sometimes you just need somebody on the outside looking in. Like sometimes you're just too close to the situation. I get that way all the time where I just feel like there's so much to do and you don't know where to start and then you get so overwhelmed and nothing works. Well that is great. So thank you for breaking those concepts down. I feel like that's definitely a step that I'll be taking soon. I don't know that I've really looked into an OBM, but I love the idea of having somebody oversee the VAs.
Becky Mollenkamp: I mean when you get to that point where managing the VAs, they're great because if you can get a lot of stuff off of your plate, but when you finally get to the point where you feel like now I'm spending all my time managing VAs instead of, you know, doing the social media work or whatever, that's probably the time and where you have some consistent enough income coming in as the time to start thinking about that next level of bringing OBM.
Meg Brunson: So you mentioned your community earlier, you said you have a free community and a paid community, is that correct? So where can people find out about the free community to start with? That's something that they're interested.
Becky Mollenkamp: Sure, it's just on Facebook. I have a Facebook group, it's called Own It, Crush It. It's all about owning your authority and crushing your goals and we're about 2100 people now. So it's not like one of those enormous groups, but It's growing and it's really great space. I have to do very little where I'm scolding people or deleting posts. I know that happens a lot in other groups, but I think people really get the vibe and they understand that I wanted to be a safe space for people to really talk about the, you know, the good, bad and ugly of being a business owner and that it's not just a place to go and splash or promotions and run, that it's really about community and people really seem to respect that pretty well, which I really love.
Meg Brunson: And where can our listeners find more about you?
Becky Mollenkamp: BeckyMollenkamp.com. And you can learn anything you want and probably more than you want thereabout me about my podcast, and about my communities as well.
Meg Brunson: Yeah. Tell me about your podcast. We should talk about that.
Becky Mollenkamp: That's called Light Bulb Moments and it's interviews with women, business owners about the light bulb moments that they've had in their lives that changed their businesses or lives. I think, you know, most of us can relate to that idea of those times where you're like, oh, and it finally clicks and you get it and you start to make real changes. Certainly that's happened with me, when my brother died was a big one for me where I realized that life was too short to continue to live doing things I thought I should do and not what I wanted. I think the thing that makes me the most happy in my businesses when I am there and get to facilitate or in some way help someone have one of those moments in their life. And so that was really what brought about the idea. I was like, what is it that I love the most? That's it. I love those light bulb moments. I love when people finally kind of had something click and they get it and they make positive changes and so I love talking to other women business owners about theirs and how, you know, what things they've changed in their lives because of them.
Meg Brunson: That's wonderful. I can't wait to start listening! Before we go. I did think of one last question I want to ask you… so, your son is still little. He's two, but do you have any, any projections and what you will teach him about entrepreneurship or, or college or any of those topics?
Becky Mollenkamp: Well, I've been doing a lot of reading and thinking about fixed versus growth mindset. If you don't know anything about it, you can read Mindset by Carol Dweck. it's pretty academic, but it's still really great especially for parents and it just talks about how to raise kids that have growth mindsets. They really believe they can do anything and they will. Most of us were raised with fixed mindsets. We were told were so smart or we're so pretty, or these defined things instead of teaching us that like you can do anything you put your mind to, and so I really, that's how I'm trying to raise him. I'm trying to. It's really hard because my kid is really smart and so I find myself saying, oh, you're so smart, but what I'm really trying to do is say like, wow, you really explored that or you really tried hard until you figured it out. When something's hard for him, I try to say, you can do this. You can. You can figure it out. I know you can just keep trying. I really want him to know that anything's possible if he puts his mind to it, and if he really tries hard. I'm hoping that I'm an example of that with my business, but I also really hope in the ways that I talked to him and teach him. It's still early, but I'm already really trying to do that so that he knows that he really can do anything. If he really puts his mind to it and believes it, and that it's not just like, oh, you're smart, so you should be able to. I want him to know that it's not about smarts, it's about, you know, do you apply yourself and are you trying and are you always learning? And so that's what we're really trying to focus on with him.
Meg Brunson: That's great. I love that outlook and I'm going to have to check out that book because that's not one I'm familiar with.
Becky Mollenkamp: It's really good and it's really eye-opening as a parent and trying to implement it is incredibly hard. I still struggle. I've read it and I know it, but I still find myself saying to my kids, oh, you're so smart, but what that does is limit a child because, and this is what happened to me, I was told I was smart a lot. But then what happens is if you can't do something right away, you assume it's because you're not smart enough or it's whatever and you think you can't do it. And so instead of teaching a kid, you're smart, so you should be able to do those things. You're supposed to teach them, "you could do anything if you try" and really keep encouraging them and complimenting on their ability to figure things out, or their inquisitiveness, and things like that. Because then that teaches them that no matter what it is, they're gonna be able to figure it out. But if they're told they're smart and then they run into problems, kids usually shut down because they're like, oh, I can't do that thing. I'm not smart enough. So it's that idea of like a fixed amount of intelligence And if you don't have it then forget it. You know? Versus like there's unlimited intelligence, you know, you spend the time figuring it out, you will. So yeah, it's a great, it's a dense read, but it's a really good read, especially for parents or teachers because it really will change how you talk to your kid. Or you'll catch yourself saying the wrong thing all the time and thinking, oh my gosh, it's so amazing how much I do this
Meg Brunson: Right. Once you read it and you realize like the best practice, you realize what you're doing, like how often you're in violation of that best practice or whatever the case may be.
Becky Mollenkamp: Yeah, and I'm at that awareness stage where I catch myself doing it, but not so much always being able to like automatically say the right thing, but the awareness is the first step, so.
Meg Brunson: Right. And it'll come. It'll come and I think that I probably dealt with some of the same stuff, always being told I was smart and then when there came a time in my life where things got harder… I don't know that I kept the trajectory going as it should have been.
Becky Mollenkamp: Oh, for sure. I mean, I don't. I still do this even though I now know all of this and I'm working on my own growth mindset. I still find myself shutting down as soon as something gets hard because I just think, well, I can't do that. Then you know, that's too hard. I can't do it. Forget it. Instead of thinking like I can do it, if I study more, If I take my time and learn and whatever, things have to be easy and I get them or I just don't do them and so I'm working on at myself as someone trying to implement it for myself and then also now trying to make sure that my son gets a different message growing up so that he maybe, won't have that same struggle. He'll have different struggles. We all do, but hopefully not that one. We can only do our best.
Meg Brunson: Well, this has been super valuable. I love all the tips that you've given from mindset here at the end through the tools that you're using or discussions around Acuity and how you started your business and pivoting and I can't wait to hear your podcast and see where everything goes. I'll link to your website, of course, and your Facebook group in the show notes so that people can find you.
---
Meet Becky Mollenkamp
Becky Mollenkamp is the creator of the Own it, Crush it movement. With nearly 15 years of experience as a business owner, she helps women navigate the mindset and tactical struggles of self-employment. Through her courses, exclusive membership community, and group program, Becky has mentored hundreds of women to own and crush their boss status.
Find Becky
---
Last Show
Dana Malstaff is the CEO and Founder of Boss Mom. She is a mother, author, speaker, business strategist, podcaster, blind spot reducer, and movement maker. She launched the Boss Mom brand with her first book Boss Mom: The Ultimate Guide to Raising a Business & Nurturing Your Family Like a Pro and quickly grew to a six-figure business within a year.
Now she has over 10,000 students in various courses helps women all over the world raise their businesses and babies at the same time. She believes that pursuing our passions and building our dreams while including our children in the process, is the best way to build thriving businesses and families, and ultimately we need to show our children that doing what we love can be financially viable.
Next Show
Kathy Stowell has been writing about creativity, self-care and simplicity over at Bliss Beyond Naptime since 2006 and is the founder of Mama Bliss Coaching School, a 12-week life and creativity coaching training program that has certified over 30 moms in eight countries so far. Kathy lives in the sleepy mountain town of Nelson, British Columbia where she's a triple latte-fueled mom to two kids, a 13 year old girl and a nine year old boy, wife to a rock-climbing obsessed engineer and the special person to their blonde wiener dog named Angel. Kathy shares insights on how parent entrepreneurs can simplify their family and business as a way that allows them to find more hours in the day!
---
About The Host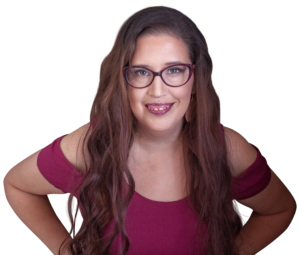 Meg Brunson has been marketing to moms for over 7 years. She is the founder and CEO of EIEIO Marketing, a digital marketing agency focused on Facebook Marketing for family-focused businesses.
Meg is also a former Facebook employee with a passion for helping bootstrapped businesses figure out Facebook so that they can promote like the pros! She left the 9-5 in 2017, so that she could be the mom she wanted to be to her 4 young daughters.
After helping her daughter launch her first business, Storytime With Kiki, at the age of 10, Meg began hosting the FamilyPreneur Podcast: an interview-style podcast for parent entrepreneurs, raising entrepreneurial children.